USD/JPY - Bullish Engulfter Suggests Short-term Target of 111
$USDJPY had a sharp dip in December, but found support at the start of year and held mostly above 107.50. It made a swing to 110 before retreating again. However, the 2/1 (Friday) candlestick was a bullish engulfing candle, and suggests that the short-term outlook going forward is still bullish - or we can say that the medium-term rally since the start of the year is likely to extend.
USD/JPY Daily Chart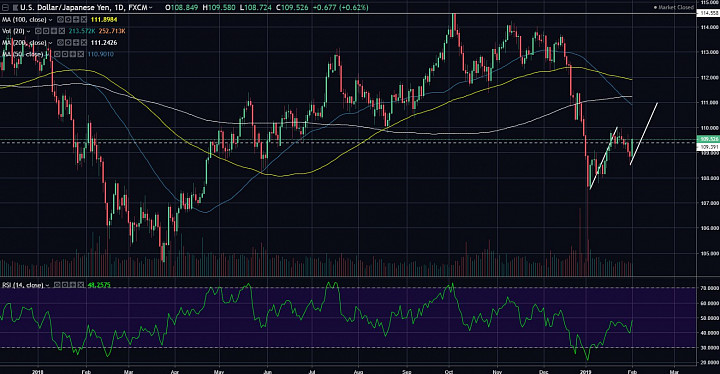 (click to enlarge)
Measured Move:
- As we noted, the Friday, 2/1 session engulfing candle suggests a bullish outlook in February.
- If we take the January rally, and project it from the 108.50 support pivot, we would have a projection to the 111 area.
- Note that this target puts price right under the moving average cluster, and close to the 200-day simple moving average (SMA).
- This means, this projected move is within the context of a market that probably overextended the previous decline and is in regression mode back towards the moving average cluster.
- In other words, this is NOT a trend following projection.
- In fact, if price is around 111 and the RSI comes up to about 60, we have to consider a possible sell-off from there.