Bitcoin (BTC/US) Pumps Past $6000 Heading into Key Blockchain Conferences
Bitcoin $BTCUSD is surging. May is an important because there are a lot of blockchain events in New York that could raise the awareness here, with Consensys being the most anticipated conference.
Consensus (May 13 - May 15: Run by Coindesk)
I think its no coincidence that price is rallying sharply ahead of this event.
BTC/USD Daily Chart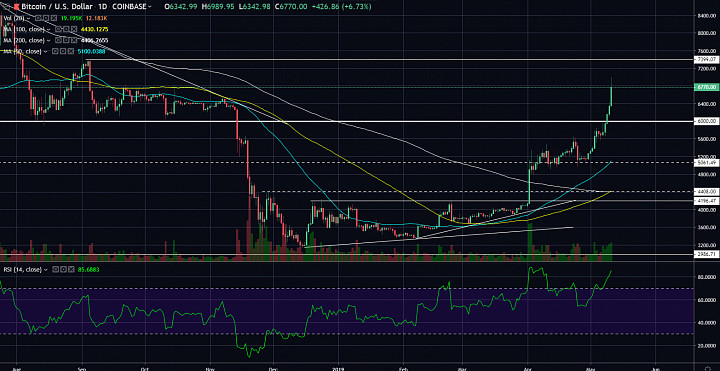 (click to enlarge)
Assessing the Breakout
A couple of things make me wary of this breakout.
First of all, there wasn't any sign of resistance around $6000 outside of a brief intra-session reaction.
I believed that there would be a longer period of resistance here, and a break after a period of resistance would be more convincing.
However, price went straight through, which suggests this could be "FOMO" ahead of key conferences in May.
The other sign of caution is the weaker volume relative to the previous breakout in April, which I think is more legitimate. There, we had a resistance that lasted several months, and we had a surge in volume. (volume on this particular chart represents volume on Coinbase only, but if you take a look at charts from other exchanges, you can see that the volume signature is similar on the other exchanges as well).
There is also the anecdote: buy the rumor sell the news. The "rumor" in this case is the anticipation of hype surrounding Consensus and other May events such as Ethereal, which is run by Conensys - an Ethereum foundation..
Google Trends:

Finally, when looking at google trends (1/1/2017 - 5/11/2019), we can see that the number of searches for "bitcoin" is slightly lower in May 2019 compared to May 2017 and 2018. Google trends is usually a coincident and lagging indicator of bitcoin's rally. But if we see a surge in interest, we can anticipate some "FOMO" but also understand that it won't be sustainable because those searching for bitcoin on google are likely not the "smart money" in this space.
This is not a bearish signal, but seeing .strong interest could be a sign of new interest, which could fuel a hype rally. So you can interpret this two ways:
1) New interest = dumb money. Lack of it means this rally is smart money and will be sustainable. 2) Lack of new interest means this rally is not going to go far.
To me, this means there won't be such an extreme pullback (let's say to $3000). I think this April-May rally has formed a price bottom above $4000.
My Strategy:
I think the $7000 mark is going to be a strong resistance up to the $7400 resistance from September 2018.
How far will it pull back is another question. Extreme volatility is common so I would not be surprised by a retreat to $5000 area.
I personally have converted some of my BTC holdings at $6200 into dry powder and looking to get back in $5000 and $4200.
I would also sell some at $7400 at which point I would be mostly cash. We will see if this rotation works. But I suspect I will feel some pain in the short-term if the market continues to hype up BTC.
From CoinPowR