GBP/NZD - a Bullish Breakout and a Pullback; Fractal Observation
GBP/NZD has been consolidating in June through August between roughly 1.74 and 1.79. By the end of August price did break above 1.79 and even the 1.80 psychological pivot. In the past few sessions, GBP/NZD has been pulling back, making it a buy-on-the-dip candidate.

GBP/NZD Daily Chart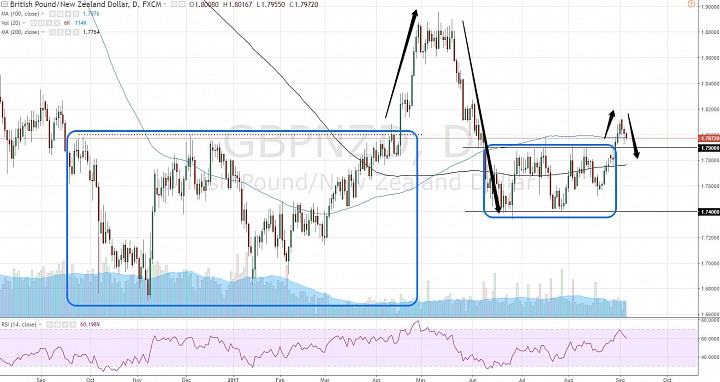 (click to enlarge)
Fractal:
- The daily chart shows that there was a period of consolidation between October 2016 and April 2017.
- Then, by the end of April, price shot up in a bullish breakout, the pulled back after consolidating around 1.88 for a bit.
- This is like a larger scaled version of what we described earlier regarding price action in the recent months.
- If price action in recent months is going to be fractal-like, we should anticipate support around 1.77.
- Support form a higher level such as 1.78 would be even more indicative of a bullish outlook, which has at least the 1.88-1.89 area in sight .
- 1.90 is indeed a critical support/resistance pivot as well as a psychological pivot. So, let's anticipate resistance there and even a lower.