Crispr Therapeutics (CRSP) Signals More Correction Ahead
Let's face it, Crispr Therapeutics $CRSP was over-hyped earlier in the year, and the correction period might continue for much longer than the 6-month long surge from below $20 to around $74 a share. History tells us most likely, we will be in a period of consolidation at least deep into 2019. As far as price, we have not established the consolidation low yet and price suggests further bearish correction.
CRSP Daily Chart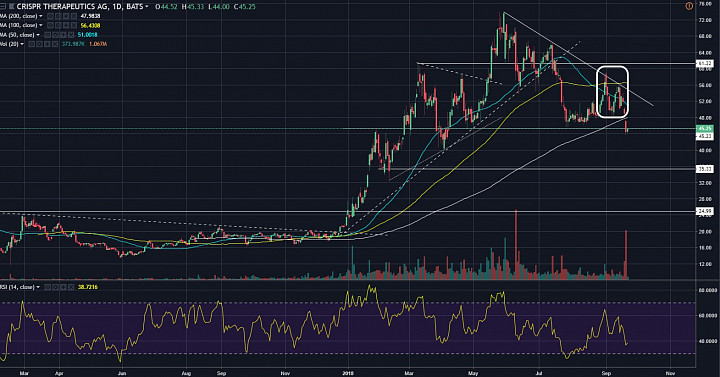 (click to enlarge)

Bearish Outlook:
- The correction period is not over evidenced price breaking below the 200-day simple moving average (SMA) last week.
- Also, the RSI held mostly under 60 after tagging below 30 in July. This suggests maintenance of the bearish momentum since June.
- Holding under the $60-$61 area was also a strong sign that bears were in charge.
- Finally, volume suggests institutional exits from CRSP longs.
- I would be looking at downside all the way back to the $24-$25 area, which was a previous resistance, which might be a good place to consider support and an anchor for a bullish attempt.
Bullish Scenario:
- At this point, I would expect resistance around the $48-$50 area.
- A break above $52 would be needed to convince me that bulls are back in control.