Juniper Networks Inc. (JNPR) - Candidate for Range Support Trading
Juniper Networks $JNPR has been in a sideways market since 2017. Now, more than 2 years later, it is still trading within a range roughly between $23.60 and $30.90. As price trades just under $26, we can consider JNPR a candidate for range trading if it continues to slide towards the $24 area.
JNPR Daily Chart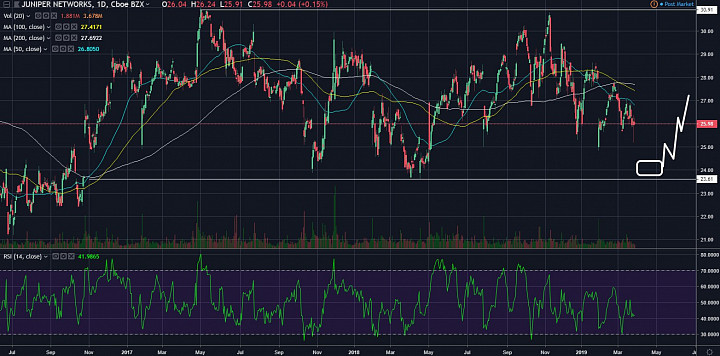 (click to enlarge)
Range Support and Reward to Risk:
- Let's say price slides to $24. This would be right on top of the range support we see on the daily chart.
- Without anything substantially bearish, we should expect support here with upside at least back towards the middle of the range, around $27.50.
- Now, let's say we have a stop at $23, and target of $27. This would provide a reward to risk of 3:1.
- With the potential of climbing even higher (up to $30-$31), I will consider entering a buy around $24.