Morgan Stanley (MS) Still Working on Price Top Despite Beating Estimates
Shares of Morgan Stanley (MS) was consolidating ahead of this week's Q4 earnings report on Tuesday (1/17). The investment bank's numbers beat estimates handily. Here's a short excerpt from CNBC:
CFO Jon Pruzan told CNBC there is much more optimism for the bank than this time last year. People have a "half full" rather than a "half empty" mindset, he said, adding that the rising spread between long-term bond yields and shorter-term yields is good news for Morgan Stanley, and that tax reform will also be a positive.

A surge in sales and trading revenue helped Morgan Stanley's earnings surpass forecasts.

Net revenue from bond sales and trading jumped by triple digits to $1.5 billion, up from $550 million a year ago. Total sales and trading net revenue rose 39 percent from the same quarter a year ago, to $3.2 billion.

The bank posted a profit of 81 cents a share on revenue of $9.02 billion.

Morgan Stanley was expected to post a profit of 65 cents a share on revenue of $8.47 billion, according to the consensus of analysts polled by Reuters. (Full Article on CNBC.com)
The initial bullish reaction for shares of Morgan Stanley (MS) faded quickly.

MS 4H Chart 1/20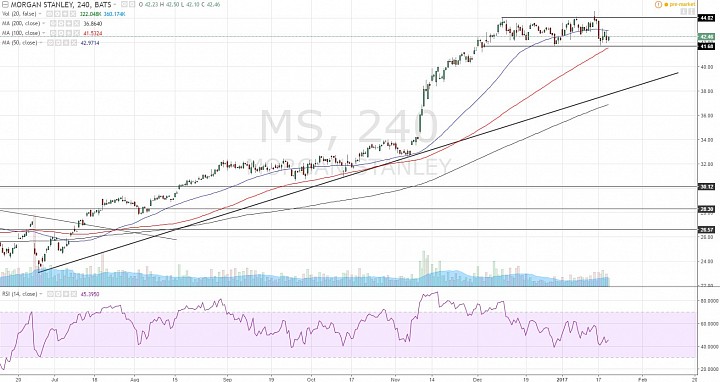 (click to enlarge)
False Bullish Breakout is a Bearish Signal:
- As we can see in the 4H chart, price initially moved higher, as if breaking the consolidation between 41.70 and 44.00. 
- However, the subsequent price action was a retreat all the way back to the consolidation support area. 
- So, far it has found buyers at 41.70. A break below this "neckline" would complete a price top and suggest further bearish correction.
- Furthermore, a false breakout to the upside after better-than-expected earnings report, suggests that bulls are exhausted.
- I would look for a slide at least back towards the 40.00 handle and support/resistance pivot.
- Because of the prevailing bullish trend, I would not look for a bearish correction past the 38.00 handle, where price might meet a rising trendline.