SodaStream (SODA) pops after better than expected earnings
(CNBC) Shares of SodaStream climbed 16.22 percent on Thursday after releasing third-quarter earnings that easily topped Wall Street expectations.
SodaStream reported earnings of 69 cents per share for its third quarter, beating analyst's estimates of 23 cents per share, according to a consensus estimate from Thomson Reuters. The company also blew past revenue expectations, reporting a sales rise of 12.9 percent to $124.2 million, compared to Wall Street predictions of $115 million.
Additionally, the company's EBITDA skyrocketed 140.6 percent to $23.3 million, compared to $9.7 million in last year's third quarter.
According to a statement released on Thursday, SodaStream CEO Daniel Birnbaum said he attributes the third quarter performance to an increase in sparkling water maker sales.
"Our top-line performance included a 23 percent increase in sparkling water maker unit sales to 788,000, our highest quarterly figure in nearly two years," Birnbaum said. "During the third quarter, our home carbonation system was used to produce and consume more sparkling water than any other brand worldwide, which resulted in an all-time quarterly record 7.7 million gas refills."
Before it released its third-quarter earnings report, the company closed Wednesday at $28.12. (Article from CNBC)
Let's take a look at the weekly chart:
SODA weekly chart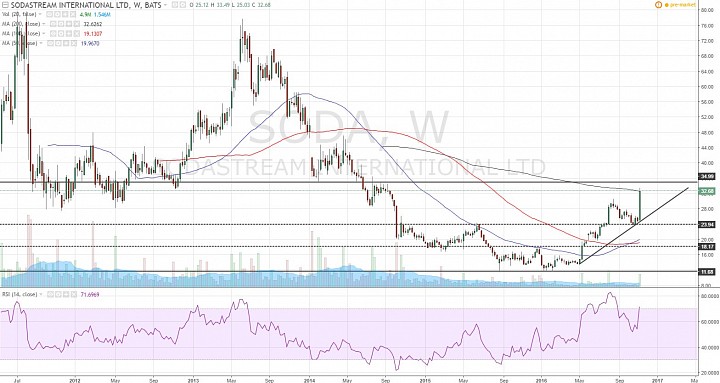 (click to enlarge)
Bullish Reversal:
- In the weekly chart, we can see that SODA has been bearish after almost reaching 78.00 in 2013.
- It fell to a low of 11.40 in August of 2015. 
- Since then, price of SODA has flattened. Then, there was a breakout in May 2016. 
- We saw another bullish signal when price broke the 24.00 resistance. By this time, we can say that SODA has reversed into a bullish trend.

Bullish continuation:
- Price retreated into a couple months of consolidation after price tagged 30 and retreated. 
- But this week, after the earnings report, SODA popped up, continuing this year's bullish trend.
- The trend might meet some resistance as it approaches 35.00. 
- However, if price does retreat, we should consider support around 28.00. In other words, I would look for the market to buy on a dip around 28.00.