Papa Johns (PZZA) - Testing Key Pivot to Confirm Short-term Bullish Outlook
Papa Johns $PZZA has been bullish since rounding out a bottom in Q1 of 2019.
PZZA Daily Chart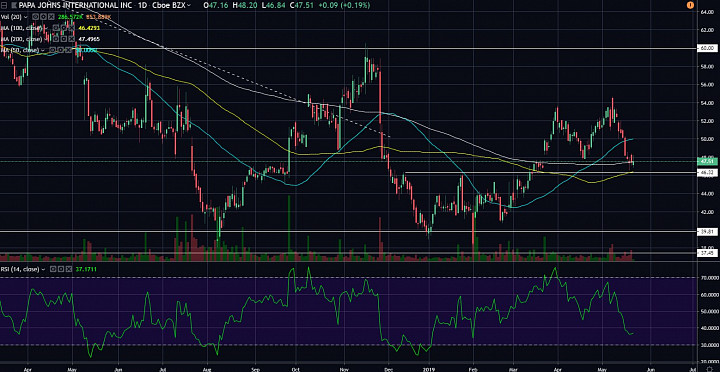 (click to enlarge)
Price Bottom Within Range:
- It should be noted that the trend heading into the second half of 2018 was bearish.
- Then, after price found support at $38 in August '18, price action appeared to be sideways.
- The next couple of times price approached this support was start of January 2019 and February 2019.
- We can see that price action in the early months of 2019 completed a price bottom.
- But this price bottom is within the overall range, so any upside would be limited to $58-$60 for now.
Pullback:
- After price first broke above the $46.35 neckline resistance in March, PZZA pulled back in April only to respect the $48 area as support.
- This suggested bulls were in charge, with upside to the $58-$60 highs.
- However, Price again pulled back in May, and so far it has been a deeper pullback.
- Still, there is a chance price will respected the $46 area as support. This would again confirm a bullish outlook towards $58-$60.
- A break below $44 on the other hand might put the pressure back to the support area between $38 and $40.