Valeant (VRX) In a Double Bottom Attempt; Watch for Resistance around 18.00
Valeant Pharmaceuticals (VRX) had a rough year in 2016, but could be stabilizing. 

VRX Daily Chart 2/20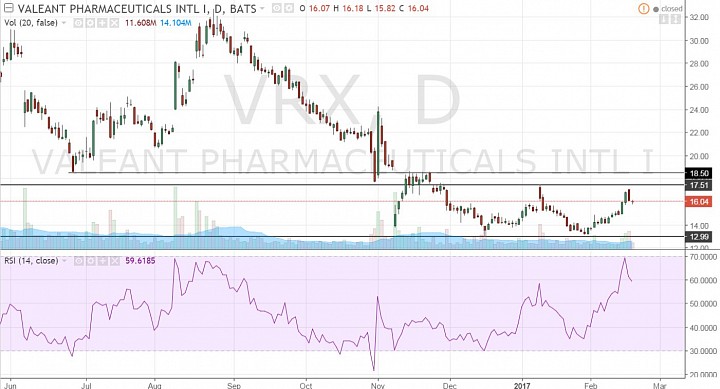 (click to enlarge)

Double Bottom Neckline:
- The daily chart shows that price bounced off the 13.00 handle in December, and then again in January. 
- Price is approaching the earlier resistance around 17.50. 
- This would be the "neckline" of the current double bottom.
- The resistance area however extends to 18.50, so we should look fro a break above 18.50 for a bullish sign.
Selling at Resistance:
- On the other hand, if we respect the prevailing downtrend, we can consider selling in this 17.50-18.50 area. 
- I think we can get something around a 2:1 reward to risk if we enter around 18.00 with a stop at 19.50 and a target of 15.00.
- With the prevailing trend being bearish, the probability of price continuing to 14.00 or 13.00 is good enough to keep a small position even if price does hit the 15.00 price target.
- So, the reward to risk is higher than 2:1 if we enter at 18.00 with a stop at 19.50.