Snap Inc. (SNAP) in a Key Breakout; $14 in Sight
Snap Inc. $SNAP is in a key bullish breakout that confirms a bullish reversal development, and opens up the $14 handle.
SNAP Daily Chart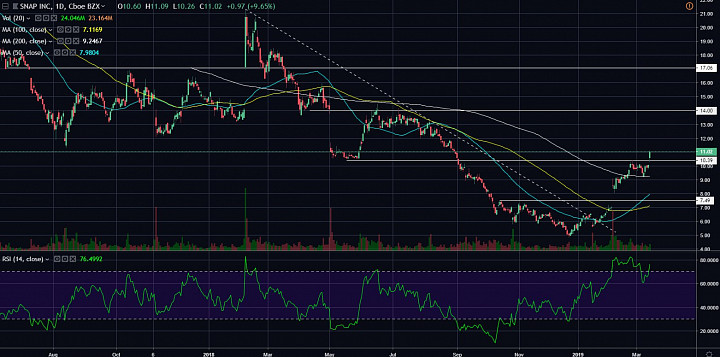 (click to enlarge)
Bullish Reversal?
- From a technical analysis perspective SNAP appears to be turning things around. At least that's what the market sentiment is.
- After a price bottom below $7.50, price surged up to $10 where it stuck around for a little bit.
- Also note that price broke above the 200-day simple moving average (SMA).
- During the consolidation under $10, price bounced off the 200-day SMA, which suggests bulls are indeed taking over.
- The subsequent breakout above the $10.40 resistance during the 3/14 session confirms the bullish reversal scenario.
Target, Resistance:
- There is a support/resistance pivot around $12. We can expect some selling here,
- But I think in a bullish market, price will stay above $10.
- If price does hold above $10, I think we can anticipate upside to $14.
- Above that might be a bit aggressive for 2019, unless we get a surge of overall market appetite, which I don't see happening.
- I think at this point, the key price action to look for is a hold above $10, which would strongly confirm upside and potential to $14 this year.

In the News...
It should be noted that the current bullish breakout was buoyed by news that "longtime BTIG bear Richard Greenfield upgraded the stock to buy from neutral due to expectations of rising advertising revenue." (thestreet.com)
The thing is, revenue has always been rising, but the firm has not turned a profit and has strong competition in Instagram. This is why I would not be that aggressive on the bullish outlook and limit the upside to $14, absent any game-changer.