EUR/USD at Key Resistance of 1.1515
After almost coming down to 1.12 in November 2018, EUR/USD has been consolidating, with a push towards the 1.1515 support/resistance pivot.
EUR/USD Daily Chart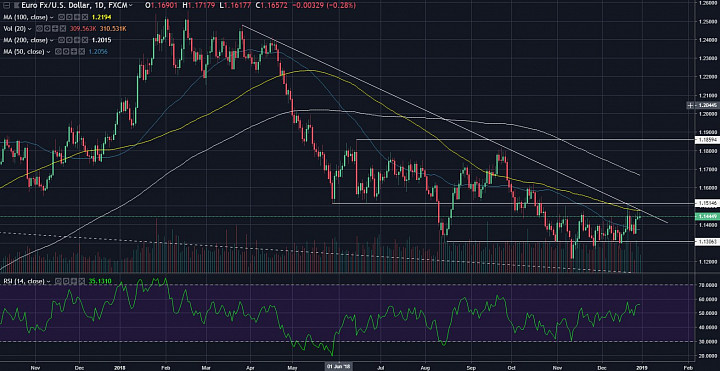 (click to enlarge)
Bears in Charge:
- Even though price was sideways and even slightly bullish since the November low, the overall market is still bearish.
- We can see price under the 200- and 100-day simple moving averages (SMAs).
- furthermore, the RSI has been able to push below 30, and then has been holding under 60 for the most part. This shows maintenance of bearish momentum.
- A break above $1.1515 could open up the 1.17 area, or the middle of the current range between roughly 1.1860 and 1.13 (ignoring the November dip to 1.1215.)
- Essentially the upside should be limited to the 200-day simple moving average.
- Because the prevailing trend is still bearish, a break below 1.14 could initiate a bearish continuation swing towards 1.12, with the 1.10 target still in sight.
Bullish Scenario:
- On the weekly chart, we can see that the sharp bearish trend in the first half of the year slowed down in the second half.
- During the 2018 bearish correction phase, price remained above the 200-week SMA. This could be a sign that bulls are still in charge for the medium to long-term. (The bullish trend was started in 2017. )
- For example, if price starts to hold above 1.15, we should have more confidence of a push towards the 1.1860 resistance area. A break above that opens up the 1.21-1.22 area, which is the support area for the price top made in the first 4 months of 2018.

I think if price can get back to the 1.21-1.22 area, bulls would be back in charge.
However, failure to push above 1.1860, or 1.20 would be signs that bears are still in charge.
EUR/USD Weekly Chart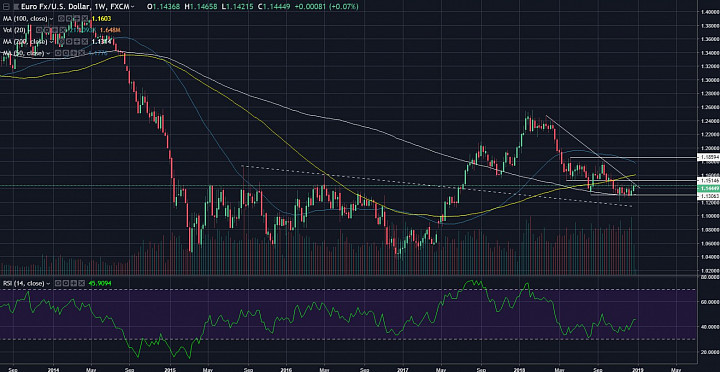 (click to enlarge)