37.00 could be a key level for Under Armour (UA)
Under Armour is stuck in a choppy sideways market throughout the year. In fact, if we look at the daily chart, we can argue that price has been consolidating in a triangle since Sept. 2015.

UA Daily Chart 9/6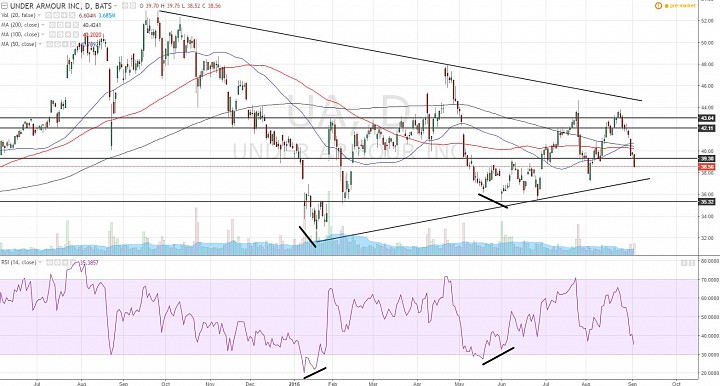 (click to enlarge)
Support factors:
- First of all, it should be noted that UA had a 2 for 1 price split earlier in the year. The current chart adjusted the price before the split.
- Nonetheless, the market will be seeing a rising trendline on the charts. 
- I think 37.00 will be a sticky level, where price will find buyers or at least consolidate around. 
- Also monitor the RSI to see if it pushes below 30 and even better, if it forms a bullish divergence. Last 2 times we saw a bullish divergence, price turned around. 
- So if price stalls at 37 and there is a bullish divergence, anticipate a rally first back to 40, but limit the upside to 43 in case UA can't reach that August high just under 44. 
40 can provide more clues:
- Now, I think 40 will also be a key level. 
- If we start seeing price hold above 40, we should anticipate a bullish development. (However, note that earlier in the year price seems to be anchoring above 40, but price failed to maintain the bullish swing that followed.)
- The point is, we can develop some ideas if 40 becomes a pivot, but don't use it like a crystal ball.
- If price starts to hold under 40, we should anticipate further pressure, with the low around 32.00 back in sight.