Verizon (VZ) Completing a Double Bottom in a Sideways Market
Verizon's (VZ) stock price can only be described as trading in choppy sideways action since 2013. We can see that there was some prevailing bullish trend, and even the sideways action did tilt upwards as VZ made a in 2016 not seen since 2000.
Verizon (VZ) Weekly Chart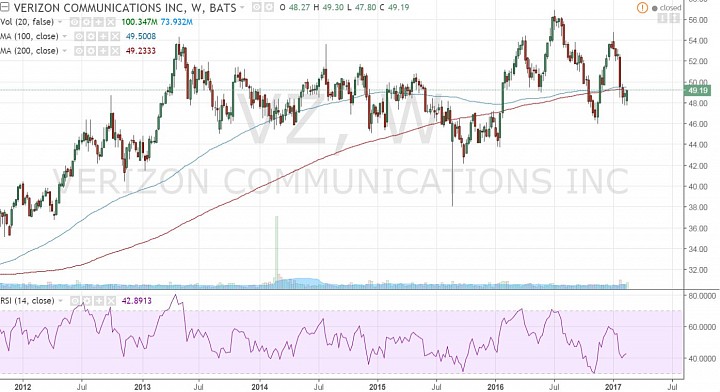 (click to enlarge)
Neutral-Bullish:
- As noted, the weekly chart above shows a bullish market that has turned sideways. 
- Its been sideways for a while, so we would consider the long-term market neutral-bullish.
Verizon (VZ) Daily Chart 2/21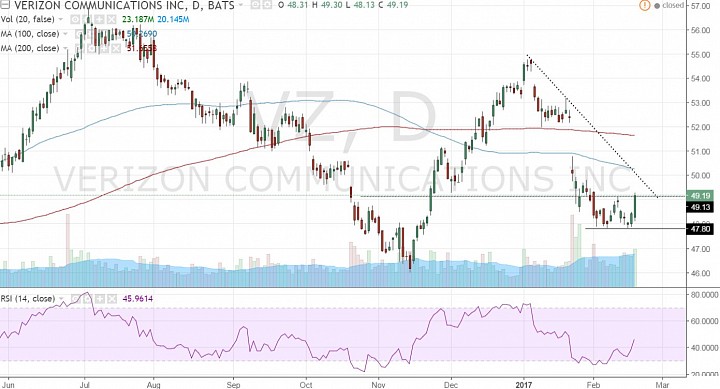 (click to enlarge)

Double Bottom, Limited Bullish Outlook:
- When we just focus on price action in 2017, we see that price has been retreating after failing to push above 55.00.
- Price fell to about 47.80 and failed to break this support twice.
- As price now moves up above 49.15, VZ has completed a double bottom.
- Within a sideways market, a double bottom does signal a bullish outlook, but not a strong one.
- We should not not expect price to push back to 55.00. 
- I think 52.00 is a sensible target in the short to medium-term.
- If in the next few months, price starts to show support above 49.00, maybe we will get more signs that bulls are in charge, and the 55.00 high would be in view. 
- For now we have a double bottom that signals a bullish push with 52.00 as a possible target, with 54-55 as the maximum target.