CVS Health Corp. (CVS) Showing Signs of Life After Breakout
CVS Health Corp. $CVS has been consolidating following a secular bearish trend that started in 2015. After several months of range-bound consolidation, price has broken above the resistance, showing some signs of life and signaling a bullish correction if not a price bottom.
CVS Daily Chart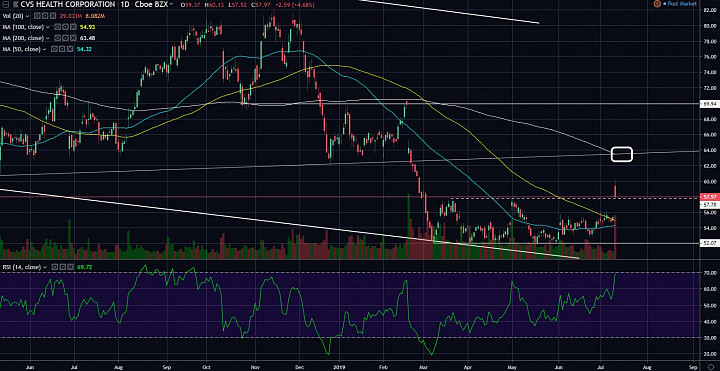 (click to enlarge)
Bullish Breakout:
- After ranging between roughly $52 and $57.75, price surged during the 7/11 session.
- This looks like a strong breakout with volume, but it is apparent that the $60 level is showing strong resistance.
- Now, if price can eventually hold above $55-$56, then we might have more reason to believe that CVS is going to extend the current bullish correction scenario.
- I still don't think CVS is turning bullish, but a bullish correction to $64 (around the 200-day SMA) would be very possible.
- The strongest bullish outlook would be a correction to the 2019-high around $70.
- However, if price falls below $55, I think there is more likelihood that price will retest the $52 low, and eventually fall to the $40-$44 area.
Note that this rally was based on Trump's rebate proposal. Here's a summary from Market Insider:
- Pharmacy and health-insurance stocks jumped Thursday after the White House announced plans to scrap its drug-rebate plan.
- The proposal was part of the Trump administration's efforts to reduce drug costs. If implemented, the rebate rule would have prevented pharmacy benefit managers from profiting on deals made between drug companies and insurers.
- Administration officials and Health and Human Services Secretary Alex Azar disagreed on whether the rebate rule would be worth the approximately $180 billion it was expected to cost the government over a decade.
- The decision spares PBMs from having a major chunk of their revenue taken away.