Silver (XAG/USD) Pulls Back $17.45-$18 Could be Support for the Bullish Scenario
Last week, I discussed a bullish scenario for silver to challenge the $20.50-$21 resistance area. However, price has since retreated sharply. I still think $XAGUSD will continue towards at least $20, but we probably will see a period of consolidation first started by last week's sharp pullback.
Silver (XAG/USD) Continues to Surge; $20.50-$21 Will be Key Resistance
XAG/USD Daily Chart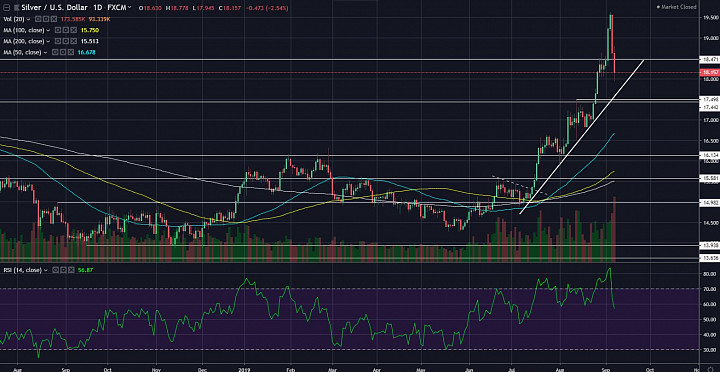 (click to enlarge)
Pullback:
- After breaking above $18.50, price has not been able to stay above this key resistance.
- Instead price is now testing the $18 area as support.
- A bullish market for silver might keep XAG/USD above $18.
- But even if price pulls back further, I think support around $17.45 would still indicate a bullish market.
Breakout Not Confirmed:
- On the weekly chart, we can see that last week's candle is indicative of a failed bullish breakout.
- This signals at least some short-term bearish outlook, or a period of consolidation.
- We mentioned $17.45 as a potential support.
- If there is an even deeper retracement, I think $16-$16.15 will have to the critical support for the bullish outlook.
- A hold above $16 is my current criteria for a bullish scenario in silver, with the $20-$21 area still in sight.
- I would therefore prepare to add exposure around $17.50, and again around $16.20 .

XAG/USD Weekly Chart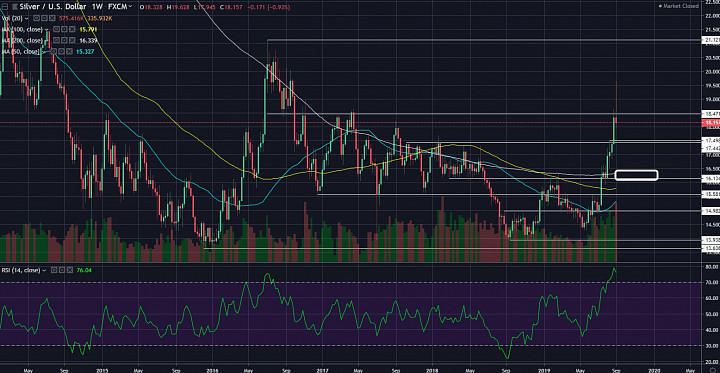 (click to enlarge)