Philip Morris Int'l (PM) in a Bearish Breakout with $75.50-$77.50 Support in Sight
Philip Morris $PM has been on a recovery swing since late 2018. As we can see on the daily chart, price came all the way up to the October high, essentially regaining all the losses that happened in Q4 of 2018. However, since tagging that high around $92, price has been sliding again. PM is still in a period of consolidation even if it has already set the lows in this consolidation.
PM Daily Chart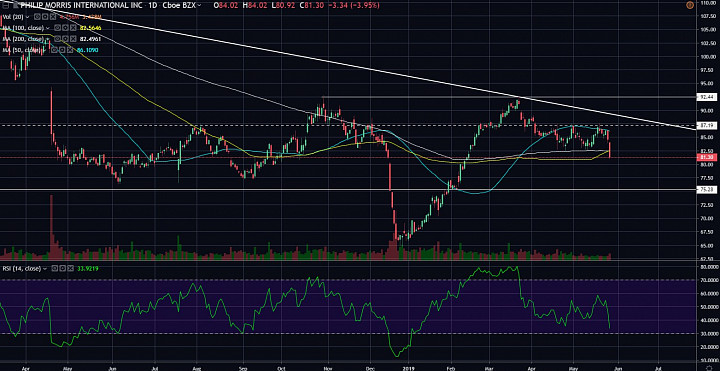 (click to enlarge)
Not Bullish:
-The price action in 2019 through March showed us that PM was most likely no longer bearish.
- But the failure to break above $92-$92.50 area suggested that PM was not bullish neither. In other words, it has shifted from a bearish correction mode to possibly a sideways consolidation mode.
Short-term Bearish:
- Within this sideways consolidation scenario, PM is likely in a short-term bearish swing.
- Note that in the past month price was trading between roughly $87.20 and $82.50.
- The market took PM below $82.50 during the 5/28 session, breaking this short-term consolidation range.
- I think the next area of support will be around $75.50-$77.50, a common support area in June through September of 2018.
- A break below $75 would then open up the $65 lows from 2018, but let's not get ahead of ourselves.
- This $75.50-$77.50 area is a critical support that also goes back to 2014 and 2015 as we can see on the weekly chart.
- Also, IF price does hold above this critical support, it would be forming an inverted head and shoulder that could have bullish implications for the following years. But again, let's not get ahead of ourselves.
- All we can really expect now is a bearish swing towards $75.50-$77.50.
PM Weekly Chart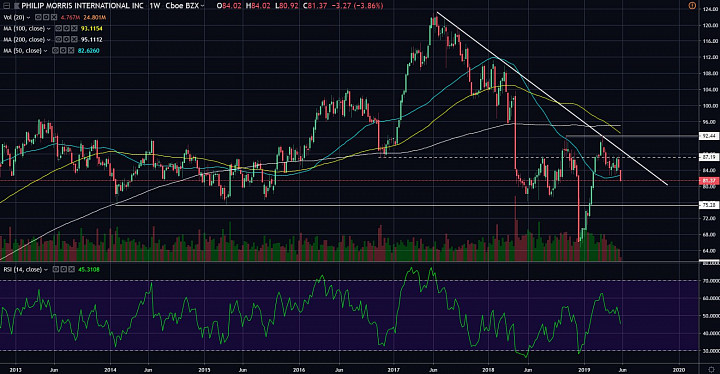 (click to enlarge)