Key Support Area for Tyson Foods Inc (TSN)
Tyson Foods Inc. $TSN had a strong second half of 2017, rallying from a low on the year just below 58 to a record high just above 84 by December. However, it has been retreating in the past couple of months, speeding up this dip recently with the rest of the market.
TSN Daily Chart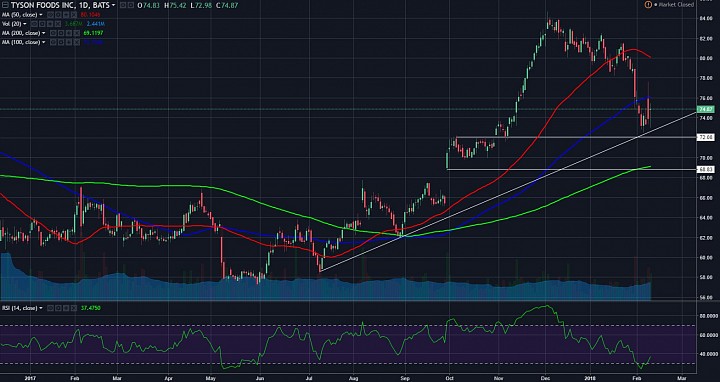 (click to enlarge)
Support:
- As price approaches the 72.00 market, TSN is testing a rising trendline and a previous support/reistance pivot area.
- Also note that the RSI went under 30, which was a sign of oversold condition.
- Indeed we saw the market buy TSN just above 72 last week.
- This could be a return to the bullish market, or simply the start of a sideways market.
- In fact, if price fails to push above $80, we should consider this a sideways, bearish market with downside back to 68.
- I think we should limit any bearish outlook to this 66-68 area.
- If the general market rebounds, we should see TSN push through 80. Above 80, price should test the 84-85 area, with upside into record highs above that.