Darden Restaurant Inc. (DRI) Could be a Buy-The-Dip Candidate
Darden Restaurant Inc. $DRI was recently in a bullish continuation breakout.
Darden Restaurants Inc. (DRI) in a Bullish Continuation Breakout
DRI Daily Chart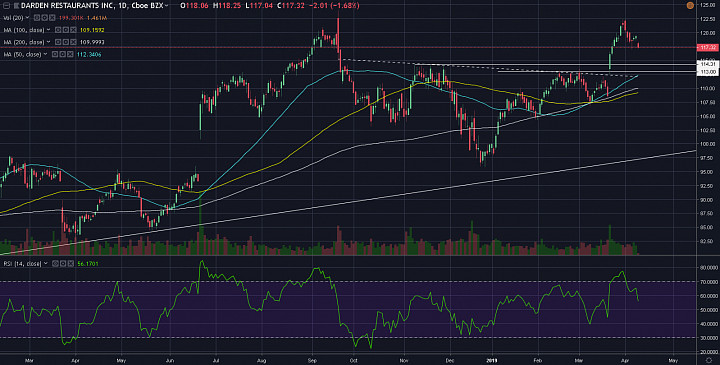 (click to enlarge)
Pullback:
- As we can see on the daily chart, price has failed to break the 2018 high around $123.
- However, the overall trend is still bullish so this pullback could be a factor of profit taking.
- I think DRI is therefore a candidate for the buy-the-dip strategy.
- If this is so, we can anticipate support in the $113-$114.50 area.
- We should also monitor the RSI as it approaches 40.
- If price stalls around $114 and the RSI turns up from around 40, we should anticipate another attempt to break $123-$124.
- With support around $114, the $123-$124 resistance area will likely weaken.
- We might have to put a stop under $110 i.e. $107.
- A target of around $128-$130 would make this a 2:1 reward to risk trade, if an entry is around $114.