USD/JPY Consolidating - Bearish Trade Idea
The USD is weak across the board, partly thanks to a come back in commodity prices and partly due to the FOMC putting on hold its rate hike campaign. The USD/JPY has fallen into lows now seen in 2014 and is threatening to fall towards the 105.50 pivot area or even the 105.00 handle where the 200-week simple moving average resides.
USD/JPY Weekly Chart 4/12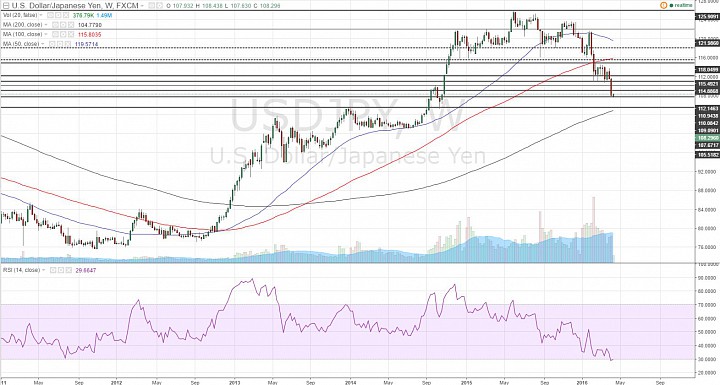 (click to enlarge)
Now, I am bullish on USD/JPY in the medium to long run, but in the short-term, I think we have to respect the bearish momentum. If this is the case, we should consider selling rallies. 

USD/JPY 4H Chart 4/12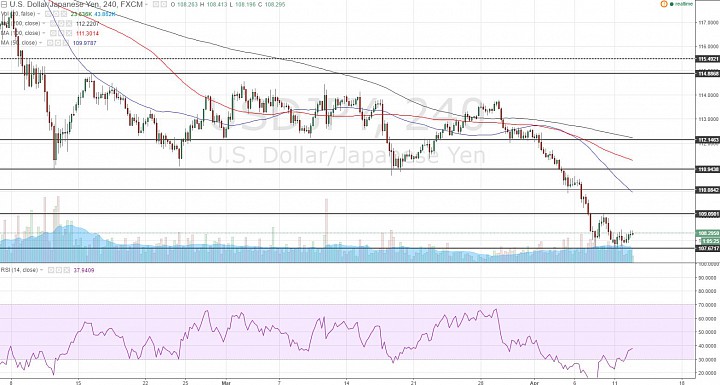 (click to enlarge)
A rally swing could be developing from the 107.65 April low made recently. If price gets back to 109-109.10, it would be at the high of what could of a developing consolidation range. We can think about this scenario for the 4/13 session if price rallies today (4/12). 
However, if 4/12 is going to be a bearish day for USD/JPY, it will struggle to push above 108.50, before retesting the 107.65 low again. 
USD/JPY 1H Chart 4/12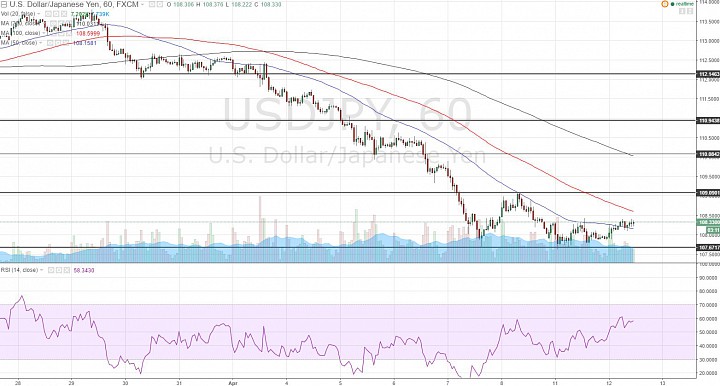 (click to enlarge)
If price does turn down without breaking above 108.50, the 107.65 low would be very vulnerable. But if price does make it back to 109, the market could be flat and the 107.65 could be in place as support for the medium-term. 
The US session is about to start, so we should see a little bit of volatility come back. I am anticipating a test of 108.50 area and then a dip towards 107.65. There is decent reward to risk, if you put a stop at let's say 108.65 and get in around 108.45 with a target to 107.75.