Delta Air (DAL) Threatening a Long-term Bullish Continuation Breakout
Delta Air Lines $DAL has been consolidating since late 2017 coming off a previous bullish trend. In 2019, it has rallied from the consolidation support around $45 to the resistance around $60-$61.
DAL Daily Chart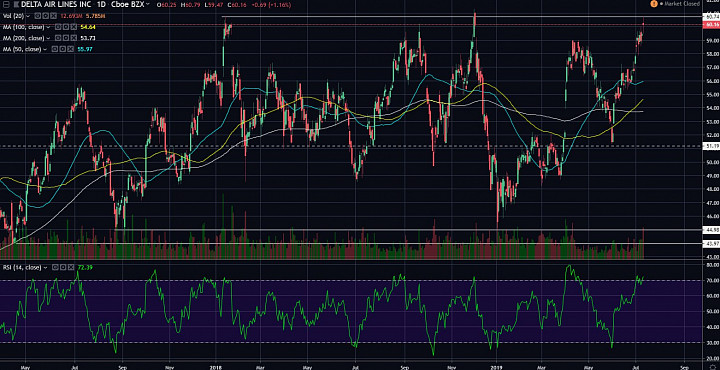 (click to enlarge)
Range Resistance Tested:
- As we can see on the daily chart, after the bullish run heading into 2018, price has been consolidation.
- The late 2018 correction pulled price from resistance to support. In 2019 however, price has rebounded back to the range resistance.
Bullish Breakout Likely:
- As we can see on the weekly chart, DAL has been on a secular bull run. Price has been trading above the 200-week simple moving average (SMA) since breaking out of a consolidation in 2013.
- Moreover, the RSI has been holding above 40 since 2017, a sign that the prevailing long-term bullish momentum is still in play.
- In 2018, we had a strong pullback, but price quickly climbed back above the 200-week SMA. The RSI also quickly climbed back above 40.
- These are signs that the market flushed out the bearish hands in late 2018 and is returning to the bullish mode in 2019.
- So as price pushes up against $61, I think there will be a bullish breakout.
- If the overall market is tentative, we might see some consolidation here with downside to $56-$57.
- But as long as price holds above $55, I think the bullish breakout is pending.
- In fact, I think the $56-$58 would be a great level to pick up some DAL now, especially if we first see price break above $61.
DAL Weekly Chart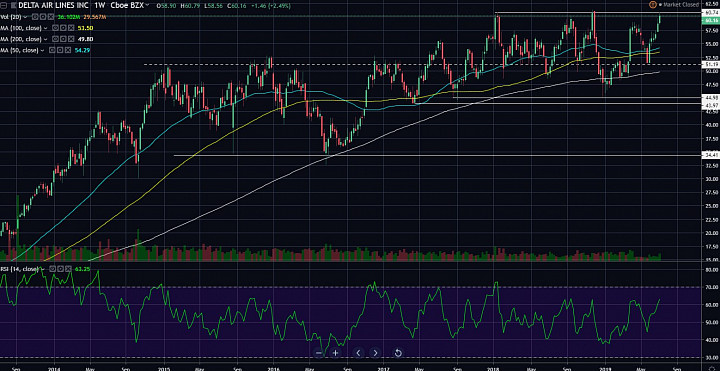 (click to enlarge)