WTI Crude Oil - Price Top Complete; 2018-Low in Sight
WTI Crud Oil priced in USD $USDWTI has completed a price top and has shifted from a bullish trend to a bearish-neutral one.
USDWTI Daily Chart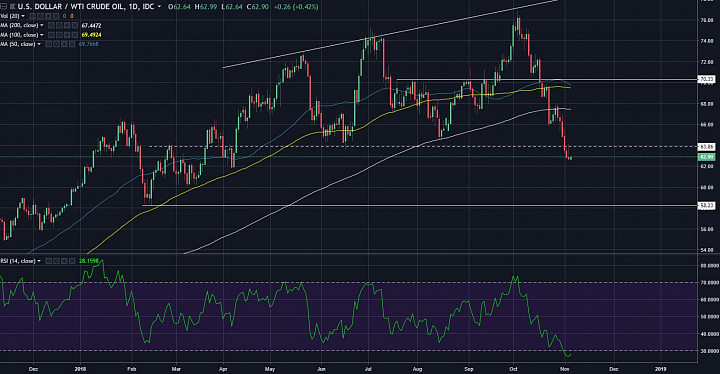 (click to enlarge)
Price Top:
- Price has been making higher highs and higher lows.
- There was also a key support at the $63.50-$64.50 area.
- The fact that price broke below $63 last week was a telling sign that USDWTI is no longer bullish.
- Furthermore, price is now below the cluster of 200-, 100-, and 50-day simple moving averages (SMA). USDWTI was considered bullish when price remained at least above the 200-day SMA, but that is no longer the case.
- Finally, the RSI dug below 30, which suggests initiation of bearish momentum.
Resistance:
- Because of these bearish signs, I would limit any bullish outlook to the short-term.
- If price rebounds, I would cap any bullish outlook to $70, maybe even lower.
- The downside might be limited as well because of some key support levels around $58.25, which was also the 2018 low.
- Besides being the 2018 low and support pivot, there is a rising trendline and the 100-week SMA that could act as support when price is down around $58.
- A break below $58 would then open up the $50-$52 area to test the 200-week SMA and the top of the 2016 consolidation range.
- For now, I am only confident about resistance around $68-$70, and downside to $58-$58.50.