Facebook (FB) Surges on Back of Earnings Report; Jumps to Next Resistance at $170
Facebook's latest earnings report showed that it was in fairly good shape. Here's a report I pulled from Investor's Business Daily:
Facebook Stock Surges On Strong Quarterly Earnings Report
BRIAN DEAGON4:05 PM ET
...
After the market close Wednesday, Facebook (FB) reported adjusted fourth-quarter earnings of $2.38 per share and revenue of $16.9 billion. Wall Street analysts expected $2.19 per share on revenue of $16.4 billion.
The company got a slew of price target hikes as a result. The high-end range of the price-target raise was from Monness Crespi Hardt analyst Brian White. He raised the price target to 225 from 190.
...
The company ended the quarter with 1.52 billion daily active users, up 9% from the year-ago period. Monthly active users were 2.32 billion, also up 9%.
Facebook Engagement Stable
"Engagement appears stable, as the daily and monthly active user ratio held steady." Baird analyst Colin Sebastian wrote in a note to clients.
Facebook now estimates 2.7 billion people use its flagship network or its Instagram, WhatsApp or Messenger offerings each month. And more than 2 billion people use at least one of the four each day.
Raymond James analyst Aaron Kessler raised his price target on Facebook stock to 200, from 190. He maintained a rating of outperform.

From Facebook Stock Surges On Strong Quarterly Earnings Report (investors.com)
We recently observed price held around the $150 resistance and noted that a break above could bring price to the $170 area, where it would face another key resistance. I didn't expect that to happen in just 1 session.
FB Daily Chart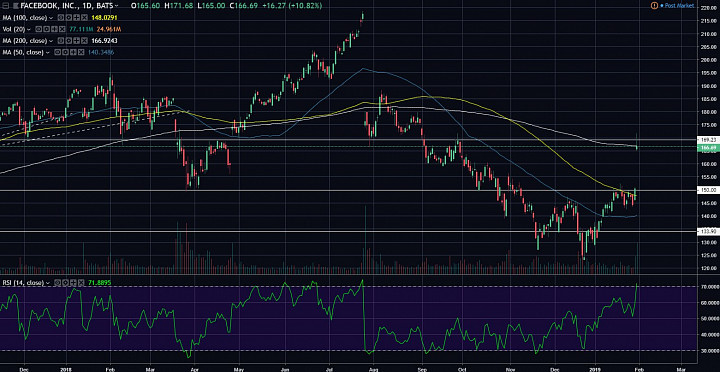 (click to enlarge)
Resistance Factors:
- We can see that the $165-$170 area contains the 200-day simple moving average (SMA), which could act like resistance during a bearish market.
- When we look at price action since July, we can say FB has been bearish in the short to medium-term. Thus, we should respect the 200-day SMA. It looks like the market did.
- Also, there is a support/resistance pivot around $170, which is another reason to anticipate selling here. Again, it looked like trades faded FB after it got above $170.
- FB closed the session around $166.70.
- I am still bearish on FB (as well as the market in general) in the short to medium-term.
Next Resistance:
- I think if price pops up above $170, it will eventually find resistance around $185-$190.
- I don't think it is prudent to chase the current rally.
- It might be better to wait for a pullback to $150.
My plan:
- I am NOT holding any position in FB at the moment, keeping dry powder for it at $128 and $110.
- These levels look really distant at the moment, especially after this latest earnings report and the subsequent reactions.
- I am considering shifting these entry orders to $152 and $135.