Silver (XAG/USD) - Price (Double) Bottom Scenario
Silver $XAGUSD started 2018 in consolidation mode, then revived the prevailing downtrend, and finally stalled against above $14 since September.
XAG/USD Daily Chart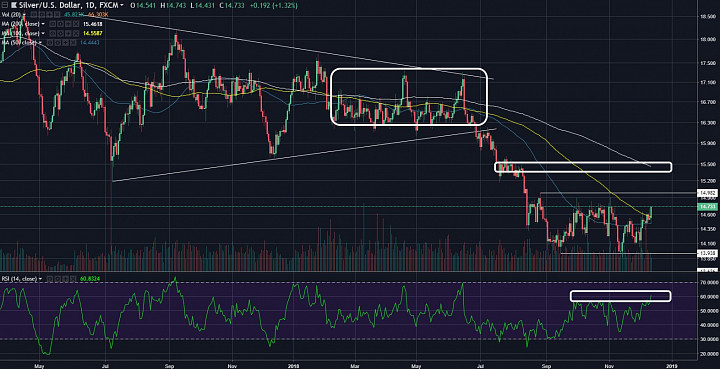 click to enlarge)
- From the daily silver chart, we can see the 3 modes silver has been trading in, since 2017.
1) A triangle since May 2017
2) A bearish breakout leading a bearish swing in June through August, 2018
3) A sideways range since September roughly between $14 and $15.
Double Bottom?
- With price stabilizing above $14, it looks like Silver might be forming a price bottom.
- The fact that the RSI is breaking above 60 is a sign that the prevailing bearish momentum (June to September) has dissipated.
- A break above $15 would complete the price bottom.
- Also, if price starts to pivot above $14.40 as it started to do already, the price bottom would look stronger.
- Above $15, there is first upside to the $15.40-15.60 area, which tests a previous consolidation area in late July-early August. The 200-day simple moving average (SMA) is also here.
- Next, price would open up to the $16.30 area, which represents the bottom of a consolidation period throughout the first half of 2018.