Subdued Inflation Data Followed by USD-Selling
During the 7/14 session, we saw underwhelming inflation data from the US for the month of June. The month-over-month reading came in flat (0%), missing a 0.1% forecast and following a -0.2% reading in May. Meanwhile, retail sales in June also fell at -0.1%, missing esimates of a 0.1% growth, and following a reading of -0.1% in May as well. The year-over-year inflation rate in June was 1.6%, a 8-month low, and well short of the 2.0% Fed target. It was also the 4th month in a row that the year-over-year rate fell.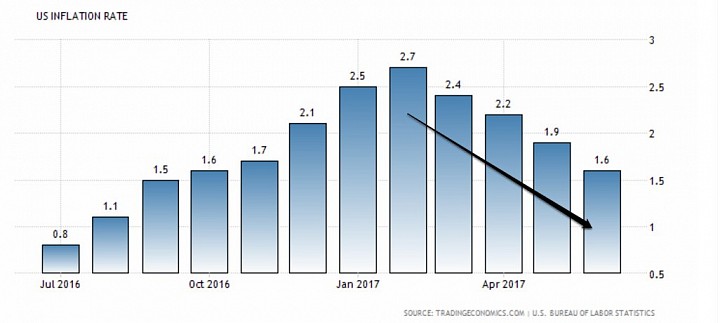 The market was probably more focused on the inflation data because it has a more direct indication to whether the Fed will raise rates as it has planned. The general consensus is that this weak inflation data should NOT be a deterrent to rate hikes. However, a string of weak inflation data can and we are already seeing the year-over-year rate fall away under the Fed rate of 2.0%. I think the market was cautious of this prospect on Friday (7/15) and therefore sold the USD across the board.

I think the USD will likely remain pressured in the coming week.