EUR/USD - Trading in a Triangle Pattern
Last week, EUR/USD found support at 1.3333 and rallied to 1.3432. Since then, this week has remained within that range coiling into a triangle. It should be noted that since 8/13 there has been some bullish momentum developing, evidenced by the RSI tagging 70 and holding above 40. As we get into the 8/15 US session, price looks poised to challenge the triangle resistance again.
EUR/USD 1H Chart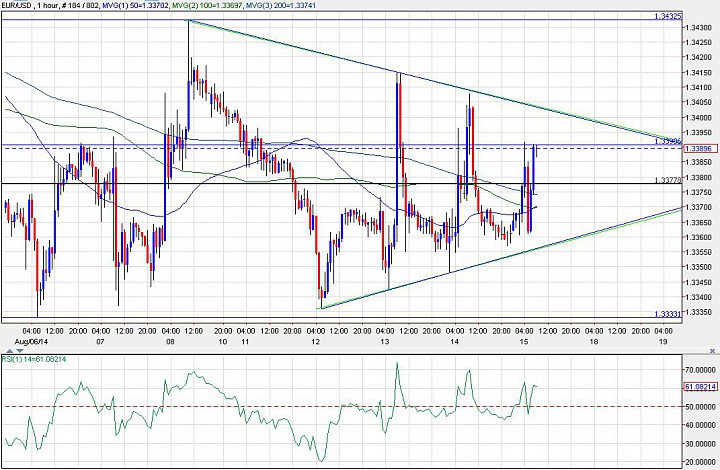 (click to enlarge)
A break above 1.3010 will be needed to clear the triangle resistance and the 8/14 high. This can signal a short-term bullish correction attempt. 

Central pivot:The central pivot area of the triangle, 1.3375-1.3380 should be monitored for support. If there is a breakout, followed by a pullback, let's see if price can hold above this area. IF it can, then the pressure will remain toward the 1.3432 high, and the August high of 1.3444, seen in the daily chart.
EUR/USD Daily Chart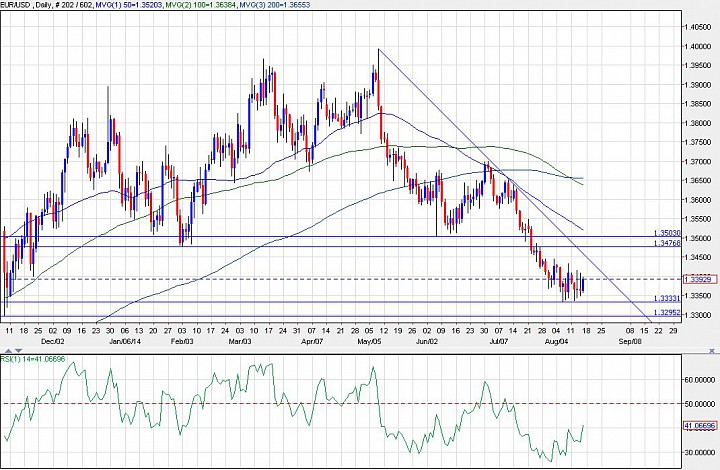 (click to enlarge)
Bullish correction scenario: If the triangle does end up setting up a price bottom, and price rallies toward 1.3445, note that EUR/USD will be challenged by a falling trendline seen in the daily chart. A break above this level and resistance factor would confirm a consolidation or bullish correction period, but the bearish outlook will remain. 
In fact, we can expect sellers in the 1.3475-1.35 area. Or, watch for a clear out above 1.35 to be followed by a bearish continuation.
If the bullish breakout scenario fails, and price falls below the 1.3475 level, the focus remains on the 1.3333 low. Below that, the next support in the short-term will be the 1.3295-1.33 lows from Nov. 2013.