EUR/USD - Sell at 1.26
EUR/USD ended last week continuing the theme of consolidation and bullish correction in November. After a new low on the year at 1.2357, EUR/USD rallied and started to consolidate roughly between 1.24 and 1.2505.

EUR/USD 4H Chart 11/17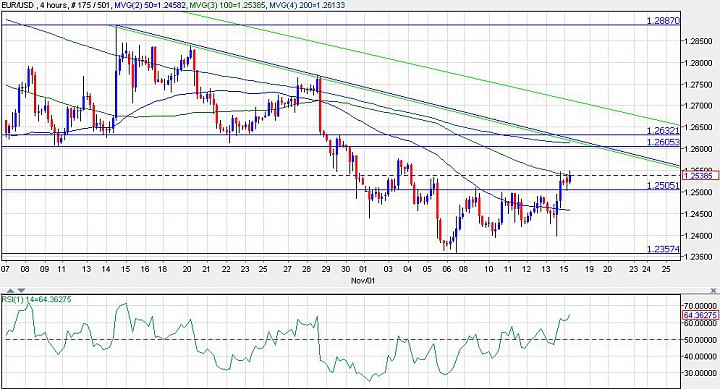 (click to enlarge)
At the end of last week, EUR/USD made a brief attempt to break 1.24, which failed, and instead rallied above resistance, reaching 1.2550. Price has now cleared above the 100-, and 50-period SMAs, and signals some more correction this week. The 4H RSI also broke above 60, which shows loss of bearish momentum in this time-frame. 

As price approaches 1.26, we should consider selling. The 1.26-1.2635 area involves:
1) A falling trendline.
2) A support/resistance pivot zone.
3) The 200-period SMA.

Also, if the RSI is in the overbought area, we can expect sellers, especially if there is a bearish divergence.

Now, because the momentum was lost, our bearish outlook should at first be limited to 1.25, then to 1.24. If we start to see price failing to push back aboev 1.2450, we can be more confidence that EUR/USD is in a bearish continuation to threaten the 1.2360 low with risk of falling to 1.23.