GW Pharmaceuticals (GWPH) in Correction Mode; I am Eyeing the $152-$155 Area
Cannabis names are highly speculative and I try to stay away. But GW Pharmaceuticals $GWPH is relatively more established, with roots in Europe where the cannabinoid pharmaceuticals industry has been around for longer than in the US due to less stringent regulation. US is catching up though. Furthermore, it has been making fresh all-time-highs almost every year since its IPO in 2013.
GWPH Daily Chart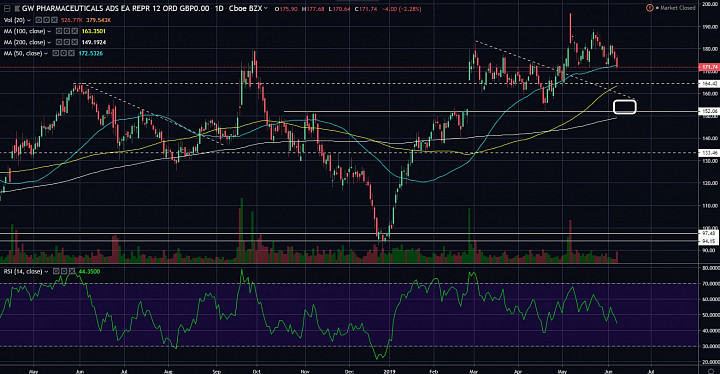 (click to enlarge)
Into New Highs:
- We saw new highs around $180 in 2018 before a sharp pullback in Q4.
- But after that, there was a V-shape reversal. Then after consolidating under that $180 high, price held above a key resistance pivot around $152.
- Treating $152 as support was a strong sign that the market is truly bullish again.
- Price structure was already bullish with price above the 200-day simple moving average (SMA).
- Furthermore, the RSI held above 40 after it pushed above 70 previously. These are all signs that bulls are in charge.
- Then, price indeed extended into higher highs but failed to reach $200 before the current consolidation.
Anticipation Correction:
- This time, the $180 was the previous resistance. The market did NOT respect it as support.
- This gives me hope that there could be a stronger pullback. (I had exited all exposure in GWPH by $150 when I was looking for another pullback.)
- This time, the market has given me confidence that GWPH is bullish. I had entry levels at $120 and $100, but now I would not mind putting in an order around $152-$155 with target around $200.
- WI would also prepare some dry powder for deeper correction to the $135 area, which represents a previously common resistance that could be tested as support.
GWPH Weekly Chart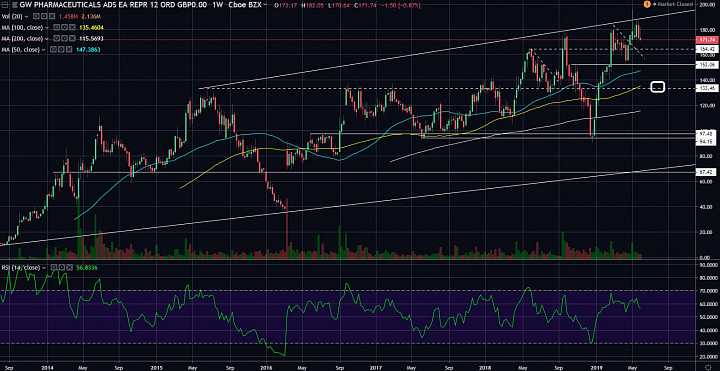 (click to enlarge)