The Bank of England Weighing on the Pound
The Bank of England (BoE) concluded its most recent monetary policy meeting and released its latest inflation report. Let's look at the broadstrokes:
Bank of England Inflation Report
Monetary Policy Summary
The previous vote was 6-2 in favor of maintaining policy. There were some that thought it was closer. But the vote from the last meeting shows that the bank did not get any less dovish.
Growth forecast was trimmed. 2017 growth projection now is 1.75%: before: 1.9%. 2018 growth projection now is 1.6%; before: 1.7%. The annual inflation rate remains projected slightly above the 2.0% target and is expected to peak at 3% in October.
The uncertainty of Brexit is weighing on growth projections.
The BoE's continuation of the Term Funding Scheme (TFS), to run through February, is essentially a soft quantitative easing.
There is really no guidance to when the BoE will stop easing other than a general expectation of that happening in 2018. The market feels that this is a dovish report. With growth projection trimmed down. that the BoE will have to stay on loose monetary policy longer.

We can see the Pound (GBP) get sold across the board. Let's take a look at EUR/GBP and GBP/USD:

EUR/GBP 4H Chart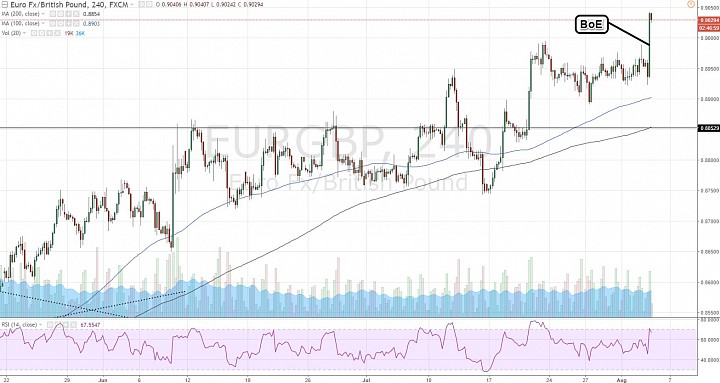 (click to enlarge)
Bullish Continuation:
- The euro has been beating up on the pound since late April.
- After a week of consolidation, the EUR/GBP is continuing this bullish run as it plows through 0.90.
- There is at least upside to 0.92 (around the 2016 high), and because the prevailing trend entering 2017 was bullish, there is upside above 0.92 as well.

GBP/USD 4H Chart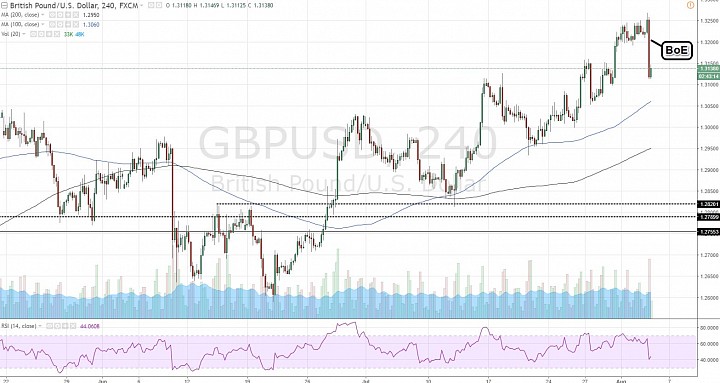 (click to enlarge)

Bearish Correction:
- While the euro was beating up on the pound, the pound was doing the same thing to the USD.
- As we can see on the 4H chart, GBP/USD had its latest bullish swing from a June around 1.26 in June to a high of 1.3250 at the start of August.
- The pair got in a relatively sharp bearish correction swing after the BoE event.
- I think the 1.31 and 1.3050 support pivots will be key. A break below 1.3050 would open up a bearish outlook.
- Meanwhile, a hold above 1.31 would be a strong indication that bulls are still in charge.
- Also, if the 4H RSI continues to hold above 40 as it is attempting to do now, the bulls are likely still in charge.