USD/JPY - Looking for Support After Expected Breakout and Pullback (8/30)
We started stalking USD/JPY after it broke above a falling resistance back on August 22-23: "Chance for USD/JPY to Make a Stand"(8/22). Most recently, we saw USD/JPY continue to break higher, and anticipated a pullback: "USD/JPY - Expected Breakout Materialized; Now Expecting a Pullback (8/29)".
In that latest assessment, we were anticipating support around 111.40 if the USD/JPY is still bullish. But we gave it some elbow space towards 111.20, but noted that a break below 111.20 makes the bullish outlook less promising.
$USDJPY 1H Chart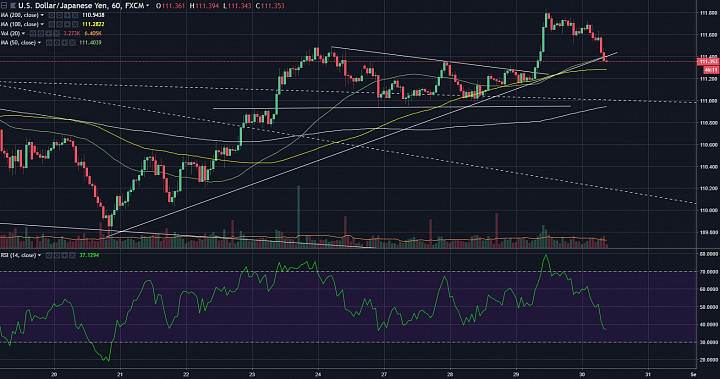 (click to enlarge)
Stalking the Pullback:
- The current pullback is extending USD/JPY further below 111.40, and reaching towards 111.20. Meanwhile, the RSI is falling below 40. If it pops back up in the US session, we can still consider the prevailing bullish momentum kept.
- However, if the RSI stays below 40 after the US session, we will have to assess a lost of bullish momentum. This would introduce a sideways to bearish outlook with the downside first to test the 111.00 pivot and the 200-day simple moving average just below it.
- 110.00 would be the next bearish target. Because the market shifted the trend in mid-August, I would also limit the bearish outlook to the 109.80-110 lows on the year (made in August).
- Now, even if price rebounds from 111, the bullish outlook is no longer strong neither. In this scenario, I would consider resistance in the 111.40-111.50 area instead of anticipating a bullish continuation.
- Note that the anticipation of limited up and downside means anticipation of a sideways market IF USD/JPY breaks below 111.20, especially if the RSI also dips back below 30.