DSW - Stalking a Bullish Correction
DSW has been bearish but started to trade sideways in June. However, price action in September has been more a bullish correction, and there is possibly some more upside. Now in our last discussion of DSW, I noted that holding below 20 shows that bears are still in charge. BUT if price can stay above 18, we should anticipate another test of 20 and perhaps an extension to 22.

DSW Daily Chart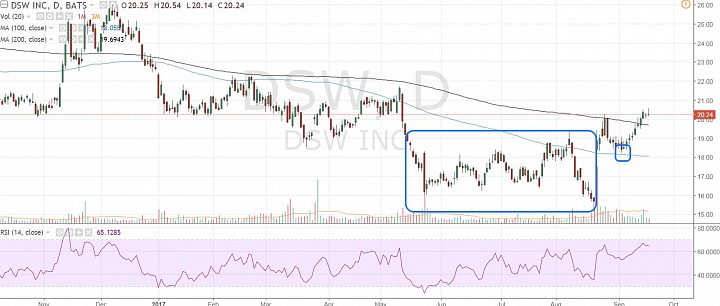 (click to enlarge)
Bullish Correction:
- The daily chart shows that after price came up to 20 and then retreated, it respected 18 and the 100-day simple moving average (SMA) as support. This was an important clue for a subsequent bullish swing.
- The bullish swing has now cracked the 20 resistance, and thus opened up the 22 handle, which is another common resistance.
- For now, we should limit the upside to 20, maybe 20.25 which is the current 2017 high made in February.
- At this point, a break below 18 would make it more likely that bears are still in charge, in which case a return towards 16, 15.50 is likely.