USD/JPY Forms Double Top, but Upside to 108 Still in Sight Within the Overall Bearish Trend
Last week, we noted that if USD/JPY was able to hold above 105.50, a subsequent rally might complete a price bottom. $USDJPY did indeed hold above 105.50 and rallied sharply to break some key resistance levels.
USD/JPY 4H Chart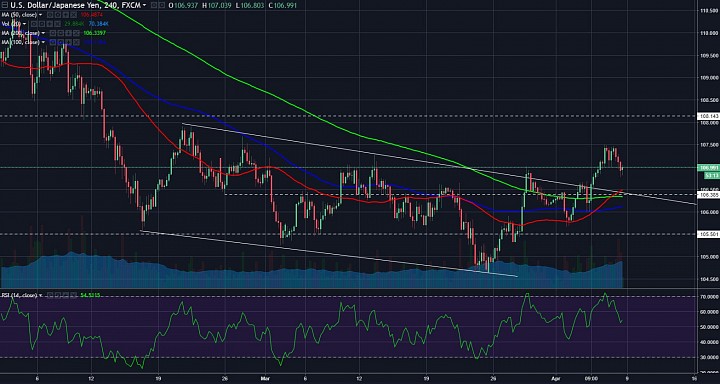 (click to enlarge)
Price Bottom:
- The prevailing trend was bearish,
- Then price started to stall. At first it looked like it was still in a falling channel, but price was able to break this channel resistance and then hold above 105.50 on a subsequent dip. This created a price bottom structure, which a subsequent rally completed.
- Now that there is a bullish breakout USD/JPY has the 108-108.15 in sight.
- However, price found resistance around 107.50, where it then formed a small double top.
- This is not a surprising short-term pullback.
- I think even if it pulls back to 106.50, USD/JPY would still be bullish. In fact, if price falls to 106.50, USD/JPY might be a good buy-on-a-dip candidate.
Bearish Outlook:
- A break below 106 on the other hand might be a sign of bearish continuation instead.
- After all, we should remember that the prevailing trend is still bearish, and that the recent rally already resolved any oversold condition. It might actually be time for price to continue downtrend. (The RSI is approaching 60, and if the market is bearish, it should hold under 60.
- I think more likely, USD/JPY will make one more push above 107.50 towards 108 before falling. The RSI could still be around 60, and not break the bearish momentum.
- Then, if it does indeed fall below 106, let's go back to the bearish outlook.
USD/JPY Daily Chart

(click to enlarge)