Cisco Systems (CSCO) Cracking Range Support Following Disappointing Earnings
Last week, Cisco Systems (CSCO) reported worse-than-expected earnings data. Here's an assessment from investorplace.com:

Fiscal Q4 earnings came to 61 cents per share, down 3% year-over-year and merely in line with expectations. CSCO did report a revenue beat — the $12.1 billion top line crawled over analysts' estimates for $12.06 billion — but that still came to a 4% year-over-year decline.
That marks seven consecutive quarters of top-line decay.
Guidance was nothing for CSCO stock bulls to get behind, either. Cisco is projecting fiscal 2018 Q1 earnings between 59 and 61 cents per share on a drop in revenues between 1% and 3%. Analysts were forecasting profits of 60 cents and a 2.4% decline in sales.
Before earnings, we noted that the inability to push above 32.50 is an indicator of bearish bias in the short to medium-term, although the long-term trend has been bullish. We noted anticipating support as price climbs to 32.50.

Well, the disappointing earnings reinforced the key resistance at 32.50, and the market sold CSCO sharply, pushing it down to a recent range support.

Cisco (CSCO) Daily Chart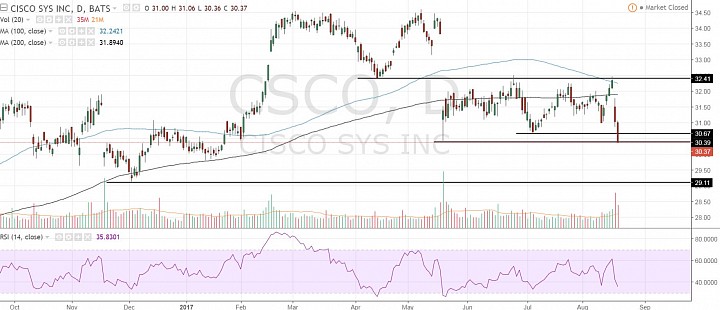 (click to enlarge)
Pending Breakout:
- While price is technically still at the range support after closing the week around 30.40, the strength of the current slide suggests a higher probability that price will break lower, and perhaps push towards the next support pivot just above 29.00.
- Thenm if price rebounds, we should see if price can hold under 31-31.50. If so, bears would still be in control of the market.
- Note that last week's dip also confirmed resistance from the 100-day simple moving average.
- Actually , price has been showing respect to the 200- and 100-day simple moving average cluster as resistance. This is another clue that bears are in charge.
- Below 29, the 26-27 area is a key support/resistance pivot area and would be the limit the bearish outlook for now.