Editas Medicine (EDIT) Signals Reversal Against Rally
Gene-editing pharmaceutical company Editas Medicine $EDIT shifted into consolidation by the end of 2018 after price tagged $18 per share. The daily chart below shows us the consolidation period in the past few months.
EDIT Daily Chart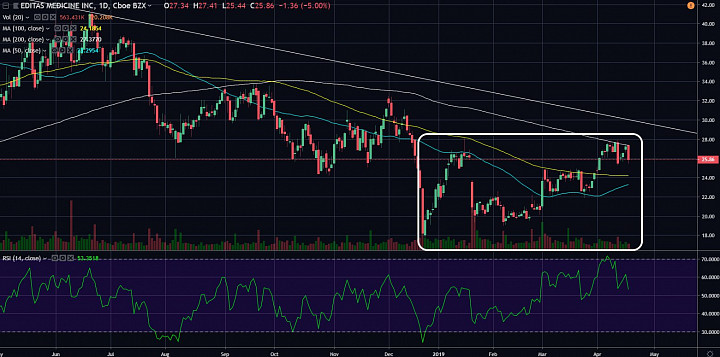 (click to enlarge)

Resistance and Price Top:
- On the daily chart, we can see that price rebounded from $18 in December, and made a brief high near $28 in January.
- Now in April, price has again rallied up to the $28 area, but again we see resistance.
- There is a candlestick combination that signal bearish continuation, which in this case, signals a price top against the recent rally.
- After a strong bearish candle last week, we saw a few small bullish sessions within that previous large bearish candle.
- Then, the 4/17 session also generated a bearish candle that engulfed the previous few sessions of tentative bullish candles.
Downside:
- The thing is, we have higher lows coming up, so it is tough to assess the downside from the bearish price action.
- What we can say is that if price can hold above $22, there is a potential price bottom. A hold above $24 would be an even stronger sign that a bottom is forming.
- A break below $22 on the other hand shows that the market is still bearish, although consolidating sideways. In this scenario, if price does fall to $18, I would not rely on it as support outside of a very brief bounce.