Ethereum Classic (ETC) Might Have More Upside Than Ethereum (ETH), at Least Until ETC/ETH = 0.07
After the DAO attack, we ended up with Ethereum (ETH) and Ethereum Class (ETC).
ETH was essentially a fork that "corrected" the impact of the attack. ETC on the other hand did not.
Furthermore, ETC has a cap while ETH does not.
Just based on these comparisons, I think ETC is more attractive.
ETH does have much more developer activity, but ETC is no slouch is among the leaders in the crypto space developer activity when not considering BTC and ETH.
By the way, I got some of these tidbits about ETC vs. ETH from Laura Shin's Unchained Podcast episode with Barry Silbert.
http://unchainedpodcast.co/barry-silbert-on-what-wall-street-says-privately-about-crypto-vs-what-it-says-publicly-ep87
Mr. Silbert is a leader in the industry and CEO of Digital Currency Group. He also believes there is more upside for ETC.
Price action has been telling us that ETC is indeed gaining on ETH and might prove Barry right.
ETC/ETH Daily Chart (from Kraken via. Tradingview.com)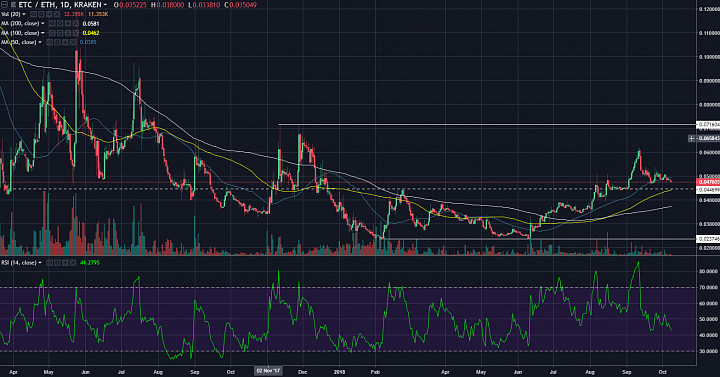 Double Bottom?
ETC has been falling against ETH throughout 2017 and 2018 until ETC was only about 2.4% of ETH.
However, we saw that 0.024 area hold in February and again in June, essentially forming a double bottom.
Price eventually rallied to break above the 0.045 resistance.
Now ETC is trading at around 4.7% of ETH's value (0.047)
During this price bottom, we also saw price rally above the cluster of simple moving averages (200, 100, 50).
Meanwhile, the RSI has pushed above 70, and then held above 40 after a pullback.
This suggests that the market is building up bullish momentum.
I think we should anticipate support as ETC/ETH approaches 0.045 and as the RSI approaches 40.
But even if price breaks lower, ETC/ETH still has a bullish outlook.
But if price falls below 0.040, I would step back and reassess whether ETC is really gaining on ETH.
For now, I think there is at least upside towards the 0.070-0.071 resistance area.
From CoinPowR