General Motors (GM) - Anticipating Support Around $30
General Motors $GM has been in a correction mode since late 2017 after it peaked just under $47 a share. As it continues to slide, I think we should anticipate some support around $30.
GM Daily Chart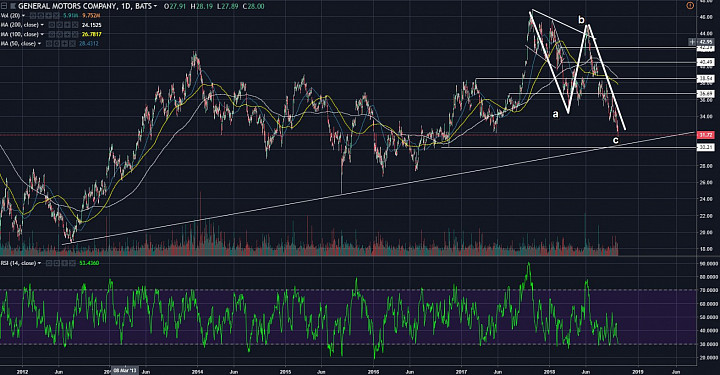 (click to enlarge)
ABC Correction:
- The daily chart shows a potentially completed abc correction that started in late 2017 after price peaked just under $47.
- The dip since June represents the c wave and it has already satisfied the length of wave a. In other words, length(c)=length(a)
Support:
- As price action completes the abc correction, it is also pushing towards a rising support.
- I think the market will see this rising trendline and provide support for GM at or above $30.
- At this point however, we will have to limit expectation for the upside.
- I think the $38-38.50 area could be a target for the bullish outlook.
- Note that the moving averages are clustered around $38 and thus returning to this level would reflect the regression-to-the-mean type of price action.
- I think we will need a break above $40 to establish a bullish outlook, which would have the $46.75 high in sight, as well as open up the prospect of pushing to $50 a share.