DSW in a Price Bottom Attempt
DSW Inc. $DSW has been sliding since a high of $47.55 in late 2013. It has slid almost down to $15 a share. Since then, price has stabilized a bit, and appears to be forming a price bottom.
DSW Weekly Chart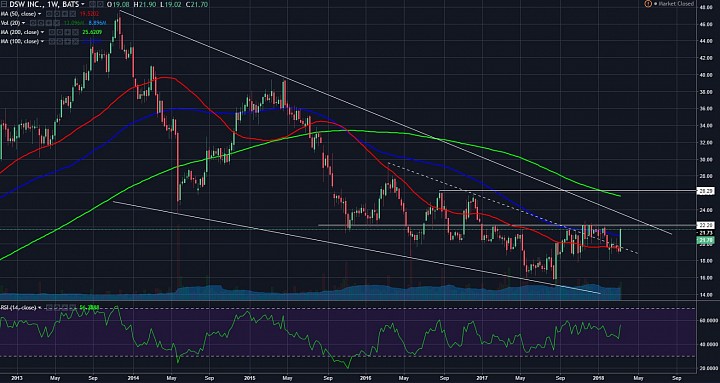 (click to enlarge)
Price Bottom:
- Price action since 2017 shows a price bottom attempt as price started to anchor above $18 after almost falling to $15.
- This Tuesday, the market bought up DSW after a strong Q4 financial report that showed a rebound from a bad Q3.
- Price reaction to the report shows that the market shares the positive outlook Motley Fool has for DSW.
- A break above $22.20 this week would help confirm this initial reaction.
- Subsequent test of $22-$22.20 area as support and bouncing off of it would be a strong bullish reversal signal.
Resistance:
- The thing is there will likely be resistance around $23.50-24, when price will be testing a falling resistance.
- Above that, maybe the most critical resistance will be around $26.
- The 200-week SMA will be around $26 as well as a previous resistance.
- Furthermore, the weekly chart still shows bearish momentum. If the RSI pushes above 60, THEN we can say that the market has gotten rid of its long-term bearish momentum.


From The Motley Fool (fool.com)
DSW bounces back
DSW's fourth-quarter results were a breath of fresh air from the retailer. Sales climbed 7% to $720 million, which was a bit less than investors had expected. Yet adjusted net income of $30.5 million soared by 90% from year-ago levels, and the resulting $0.38 per share in adjusted earnings bested the consensus forecast among those following the stock for $0.27 per share.
Some one-time impacts affected the company's reported results. The fourth quarter in 2017 had an extra week compared to 2016's period, and that added $35.6 million to revenue, or about 5 percentage points of sales growth. It also boosted earnings by $0.06 per share. Conversely, tax reform dealt DSW a blow of about $10.1 million, with the revaluation of deferred tax assets costing the retailer more than it got back in the last month of the quarter from the lower corporate tax rate on income.
Fundamentally, DSW made some progress toward a recovery. Comparable sales were higher by 1.3%, reversing the year-ago 7% plunge and providing investors with some encouragement about how the holiday season went. More successful sourcing of inventory and fewer promotional markdowns helped boost gross margin by 1.5 percentage points, and operating expenses were down slightly as a percentage of sales thanks to cost control measures that DSW put in place.
DSW noted many of the milestones it reached during the year. Digital demand hit its highest level in nine years, and 2017 was the first year of rising operating profit and earnings per share since 2013. Expansion of concepts like the Power 35 and DSW Kids were important for DSW's overall business strategy, and a new store design along with tech-enhanced capabilities point toward a brighter future. Meanwhile, the continued contraction in the Affiliated Business Group segment went according to plan, even as comps were favorable for the unit.
CEO Roger Rawlins was happy with how 2017 turned out. "Our initiatives drove comparable sales growth and strong margin improvement at the DSW segment this quarter," Rawlins said, and "the sales inflection at our Power 35 locations, including our Lab store where we have introduced an elevated warehouse experience, prove our initiatives are gaining traction." The CEO also sees its efforts as helping to provide a possible roadmap for future sales growth.
What's next for DSW?
Perhaps the biggest strategic move for DSW was its decision to exit the Ebuys business. After having gone through an evaluation of alternatives for the business, DSW pulled the plug and took a one-time charge to cover the liquidation of it. The retailer expects liquidation to be complete in early 2018, helping it put Ebuys behind it and instead focusing more of its attention on its core business.
At first glance, DSW's fiscal 2018 guidance didn't look all that spectacular, but it's important to keep some key adjustments in mind. Full-year revenue will likely fall 1% to 3%, but that includes both the exit of Ebuys and the impact of having one less week in the 2018 fiscal year. Adjusting for those factors, revenue should rise 2% to 4%. DSW expects earnings growth of 4% to 14%, coming in at $1.52 to $1.67 per share on an adjusted basis. Those numbers are roughly in line with the consensus forecast among those following the stock, although it's not entirely clear to what extent they had factored in strategic moves.
DSW rewarded shareholders with a dividend boost. Citing tax reform and other cash flow-enhancing measures, the shoe retailer will now pay $0.25 per share on a quarterly basis, up 25% from its previous payout.
DSW investors celebrated the results, and the stock jumped 7% in the first hour of trading following the announcement. There's still further to go on the road to recovery for the shoe retailer, but DSW has put all the elements in place to support continued improvement in the year to come.