Morgan Stanley (MS) Building a Price Bottom
There's been a lot of news on Morgan Stanley lately.
1) Morgan Stanley Shrinks Its Workforce Most in Three Years: Chart
2) Morgan Stanley beats, but profit drops more than 50%
Those are the two main headlines I think the market is dealing with regarding MS. Also, the overall market is turning bullish, and sentiments have improved. MS seems to be weathering the storm that has been sweeping the banking sector. 

MS Daily Chart 4/20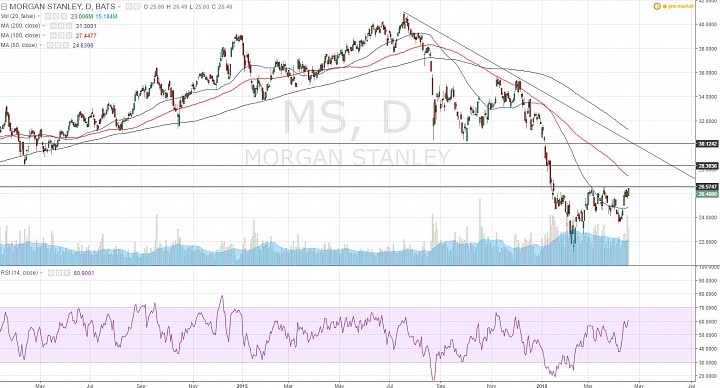 (click to enlarge)

The daily chart shows that price dipped below 22 in February before MS started to consolidate. It has created a consolidation structure a common resistance is seen around 26.55. 

Note that in the beginning of April, there was a bearish continuation signal, as price fell below a consolidation support, and then pushed below 24. However, this bearish attempt was followed immediately by a sharp bullish reversal that is now approaching the 26.55 resistance again. 

The sharp reversal is a sign that bulls have captured the flag in at least the short-term, and is threatening to extend it to the medium-term.

At this point, we should still respect the overall downtrend July 2015, but we can anticipate some upside if price can push above 26.60. This would open up the 28.30 pivot, and the 30-30.12 area. We should also note a falling speedline that will likely challenge the bullish reversal if price gets to about 30. 

The banking sector is not out of the woods yet, but MS does seem to be resilient and setting up for a bullish correction if not a reversal in the short to medium-term.