Netflix (NFLX) - More Upside Expected After the Bullish Breakout
Netflix $NFLX has been showing many bullish signs since December. Has Netflix gotten back into the long-term bullish trend? I don't think so, but there is some upside in the short-term.
NFLX Daily Chart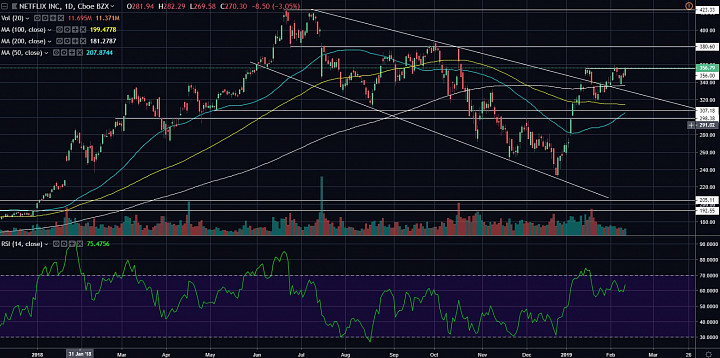 (click to enlarge)
Bulls In Over:
-When we look at the daily chart, we see a market that has been in bearish correction since it tagged $420 a share back in June/July 2018.
- But after finding support around $232 in December, price has shot back up.
- Note that price has broke back above the 200-, 100-, and 50-day simple moving averages (SMAs).
- Price has broken back above a falling channel as well.
- The RSI has pushed above 70, which indicates revival of bullish momentum.
- These are signs that would convince me NFLX is in bullish continuation mode. But I am cautious because there is still a lot of market risk in 2019.
- In the short-term, it looks like price is going to be able to break the current resistance around $360.
- The next resistance will be around $380.
- I would limit my bullish outlook to this area, although there is a chance price will push to $400, and even the $420 area.
- At this point, a break below $300 would open up the bearish correction scenario again.
- Otherwise, I would assess NFLX as neutral-bullish.
Waiting for Pullback:
- However, as price reaches these heights again (above $380), there will be too much risk of correction again.
- In other words, I would not want to chase the rally at that point.
- Instead, I want to remain patient and wait for a pullback towards the $300-$310 area. This is a strong support/resistance pivot area as well as a key psychological level for support.
- I would also rather wait for the RSI to pull back down to 40 before initiating a bullish trade.
What about a Short-term Trade?
- I think its okay to bet that price can make it to $380 before it falls below $335.
- Therefore, I wouldn't mind a short-term buy order at $350, with a stop at $335 and a target of $380. This is a 2:1 reward to risk trade and would be in the short/medium-term time-frame. ( a month or two).

Note on Volume, and a Possible $330 Entry:
- There has been a decline in volume after the bullish breakout.
- I think this is a sign that the bullish scenario will be limited.
- If volume doesn't pick up on its way towards $380, I would be more confident of the subsequent pullback.
- But I am still not confident it will come back to $300 where I want to buy. If the general market does contract again, I would have more confidence.
- Otherwise, I think I will have to push the order for 1/2 the position size towards $330.
- This way, with another order at $300, I could end up with an average price of $315.