Soybean Prices in Potential Bullish Reversal
Tecrium Soybean Fund $SOYB, which tracks soybean futures, has been trading below $17 and above $15.25 since mid-2018 as we can see on the daily chart below.
SOYB Daily Chart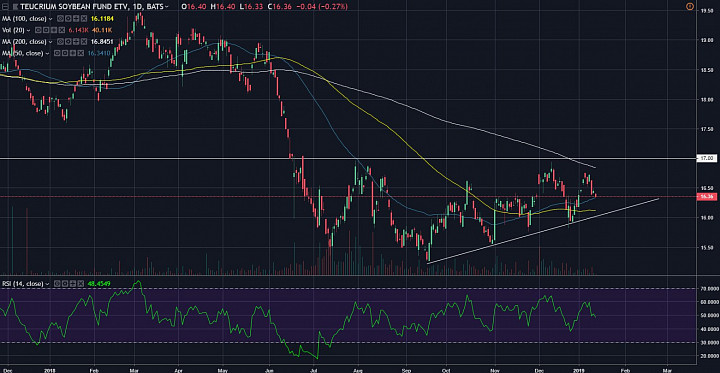 (click to enlarge
Price Bottom?
- As we can see on the daily chart, price has been held below $17.
- However, after bouncing off of $15.25, it has been making higher highs and higher lows.
- It is starting to look like a possible bottom IF price can break above $17.
- The thing is, upside could be limited to around $19, or $19.50 (near the 2018-high)
- A close below $15.80 on the other hand would open up the $15.50 level, as well as a bearish continuation scenario towards $15.00.
Potential Data Shock?
It is important to note that the historic U.S. government shutdown is creating a data gap for the Soybean market. It might not be a big deal because there are other pricing sources, but the government-issued reports are the gold-standard.
"United States government-issued agricultural reports are considered the information gold standard by traders throughout the world," says Sal Gilbertie, president and chief investment officer at Teucrium Trading. "The longer the shutdown lasts, the more the data will have to catch up when reports are finally released," he notes." (MarketWatch.com
Government shutdown poses threat of agricultural data shock (MarketWatch.com)
We should expect some volatility ahead.