Copper Price - Outside Bar at Key Resistance Confirms Bearish Market
The price of Copper in USD has recovered a bit in June. But price action at the start of July (7/1) is suggesting that the overall trend is still bearish in the medium-term after a month-long recovery.
Copper Daily Chart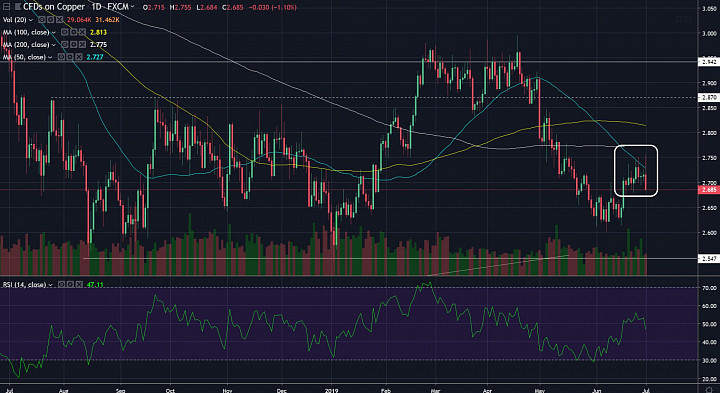 (click to enlarge)
Outside Bar:
- Note that in June, price action stabilized just above $2.60 and eventually rallied above $2.70 before getting "sticky" again at that level.
- But as we start this week (7/1) , we saw price action that initially pushed above the June high, but immediately fell sharply to test a recent support pivot in the $2.67-$2.70 area.
- Note that this is happening after price tested the 200-day simple moving average (SMA).
- The RSI also held under 60 and is now turning now.
- These are signs that the prevailing bearish market is still in play.
- I think there is a strong likelihood that price will fall back towards the common support from the past couple of years just above $2.55.