AUD/USD About to Break Above an Ascending Triangle
Last week's US inflation report softened the USD. I think this will be a theme in the second half of the year. Whereas in the first half it was about rate hike, now it is going to be more about the deterrents to having 3 rate hikes, which was what the Federal Reserve proposed early in the year.

With the softer USD, AUD/USD is rallying and threatening to open up a bullish outlook for the medium to long-term. The AUD was also strong against most majors. The market is attributing AUD's rally on rising commodity price, but not any significant reason like the RBA becoming hawkish.

AUD/USD Weekly Chart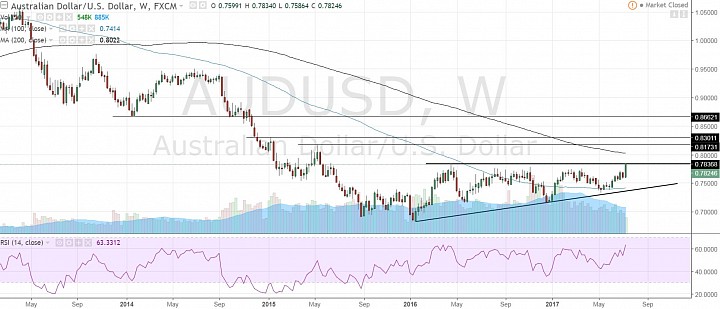 (click to enlarge)

Trend Shift:
- While it might be a little early to call a bullish trend, we can see that the AUD/USD was bearish coming into 2016, but has since been trading in an ascending triangle.
- This triangle is simply a sideways consolidation structure, but price action looks ready to break above the resistance of this structure.
Upside:
- If price breaks 0.7840, it should first open up the 0.80-0.8025 area, which involves the 200-week simple moving average (SMA).
- If this breakout extends, we can see price push to the next resistance pivots 0.8170 and 0.83, with the most aggressive bullish outlook for 2017 being capped at 0.86, before a key 2014 support area.
- I would focus first on 0.80, 0.8170, and 0.83, unless the RBA becomes more hawkish, in which case, the more aggressive target (0.86) could be viable down the road (2018).
- At this point, if price pulls back, we should see price hold above 0.77 if the market is indeed bullish.