EUR/USD Has Downside to 1.10
I have been flip flopping on my view on $EURUSD.
EUR/USD - Bearish Engulfer Suggests More Downside (1/2/2019)

EUR/USD in a Bullish Reversal Breakout (1/10/2019)
However the overall price structure remains bearish so I will take the hint and look for further downside towards at least the 1.10 handle.
EURUSD Daily Chart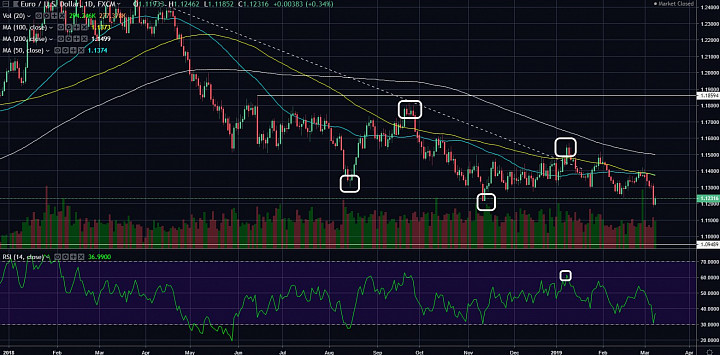 (click to enlarge)
Bearish Structure:
- First, to point out the obvious, EUR/USD is still making lower highs and lower lows.
- Also, price is still trading under the 200-day simple moving average (SMA), which is a bearish sign.
- A more subtle sign is the fact that the RSI remains under 60, which reflects maintenance of the prevailing bearish momentum.
- Another sign that bears are in charge was the failed bullish breakout at the start of 2019.
- These are signs that price will at least make a lower low.
- When we look at the weekly chart below, we can see that the most recent bearish candle was an engulfing candle that engulfed the previous 2 weeks of weak bullish attempt. This is a strong indication of downside as well.
- Now, if price comes down to the 1.10 area, we can start anticipate support because right under it, there is a support/resistance pivot zone. (1.0830-1.0950).
- In the meantime, there can be volatility and upside to 1.13. I think there will be sellers in this 1.13-1.1350 area.
EURUSD Weekly Chart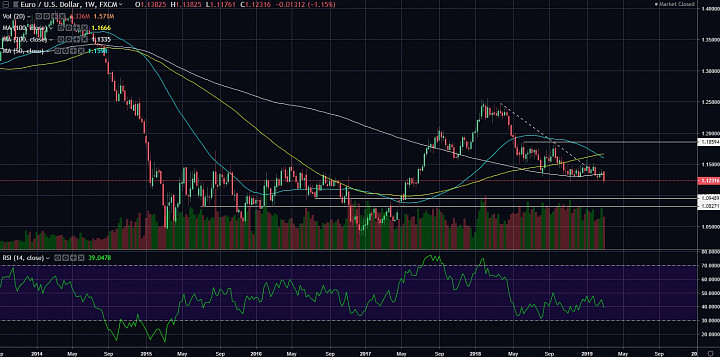 (click to enlarge)