Ford (F) - Price Structure is Bearish
Ford has been choppy and slightly bearish since 2014 after it tagged 18.00 but formed a price top there. At its low in 2015, it tagged 10.50 but rebounded sharply. However, I think price action is suggesting that there is still further downside.

F Daily Chart 1/6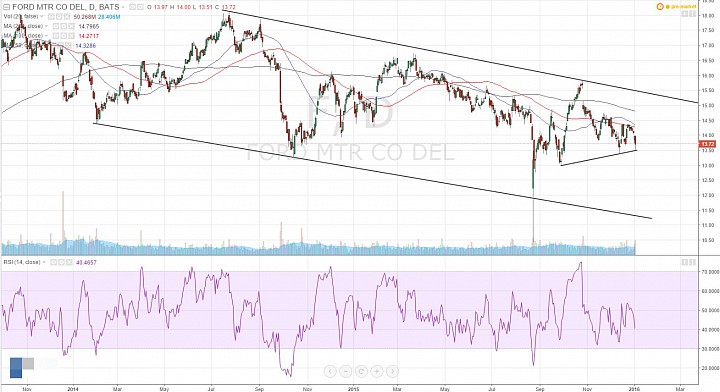 (click to enlarge)

Choppy Bearish Trend: First of all, price is now below the 200-, 100-, and 50-day simple moving averages. The daily chart also shows a falling channel, or at least low highs and lower lows, a pattern that remains intact. 

While the bearish momentum seems to have been lost since September, this has been typical in its choppy decline since 2014. 

Bearish Structure: The price structure from September throughout December is similar to that of a head and shoulder, and when such a pattern is formed in the middle of a downtrend, it suggests further downside. 

If price clears below 13.50, we should look at 13.00 as the near-term target, and the 10.50 area as a downside target in the Q1 of 2016.

Failure: If price fails to clear 13.50 and rebounds above 14.50, then we might have to reconsider this bearish assessment.