Baidu (BIDU) Sliding Back Towards Consolidation Support
Baidu $BIDU could not hold a bullish mode even after though the most recent earnings report showed growth in Q2 and strong guidance.
CNBC reports:
Revenue for the segment rose 25 percent to 21.1 billion Chinese yuan ($3.10 billion) in the second quarter.
The company has seen rapid growth in its newsfeed product, an app that is similar to Facebook's feed, and has managed to escape the ire of regulators even as competitors continue to suffer temporary bans and fines for failing to censor content.
Net income attributable to Baidu rose to 6.4 billion Chinese yuan, or 18.14 yuan per American depositary share (ADS), in the second quarter ended June 30 from 4.42 billion yuan, or 11.31 yuan per ADS, from a year earlier.
Excluding one-time items, Baidu earned 21.06 yuan per ADS, above expectations of 16.46 yuan.
Total revenue rose 24.4 percent to 25.97 billion yuan from 20.87 billion yuan.
However the market might have focused more on the competition ($GOOGL) that might enter BIDU's domain in China. As reported on theintercept.com:
GOOGLE IS PLANNING to launch a censored version of its search engine in China that will blacklist websites and search terms about human rights, democracy, religion, and peaceful protest, The Intercept can reveal.
The project – code-named Dragonfly – has been underway since spring of last year, and accelerated following a December 2017 meeting between Google's CEO Sundar Pichai and a top Chinese government official, according to internal Google documents and people familiar with the plans.
BIDU's stock price fell sharply during the 8/1 session.
BIDU Daily Chart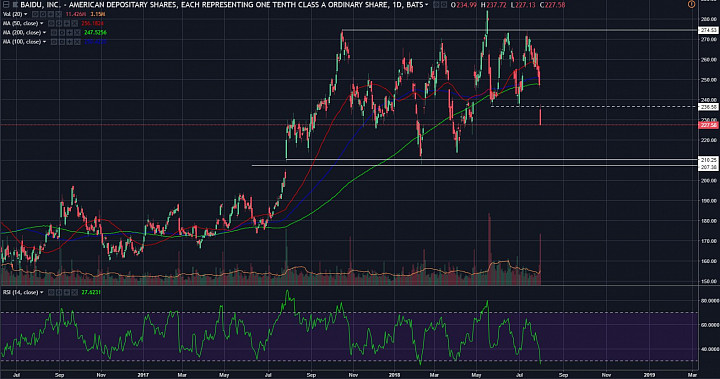 (click to enlarge)
Still in Consolidation:
- Price has been consolidating since coming up above $270 in October 2017.
- We only saw price briefly violate this resistance in May 2018, but we can see that price immediately fell back into the range.
- After consolidating mostly above the 200-day simple moving average (SMA), price fell below it clearly during the 8/1 session.
- We should probably anticipate a slide back towards the consolidation range support in the $207-$210 area.
- We might also want to prepare for a possible break that could come down to the $200 area and rebound sharply from this psychological level as well as a previous resistance pivot in 2016.
- Meanwhile, if we see a bullish divergence between price and the RSI, we should anticipate a rally from this support area, to at least test the $245-$250 area, which represents the middle of the range, and is where the 200-day SMA resides.