Fred's Inc. (FRED) in a Bullish Reversal Attempt
Recently, we saw a surge in Fred's $FRED after it shed a significant part of its pharmacy business. After a pullback, we noted that holding above $2.00 and the moving averages (100-day and 50-day) was a key sign that bulls are in control.
Fred's Inc. (FRED) Survives Critical Support Test
FRED Daily Chart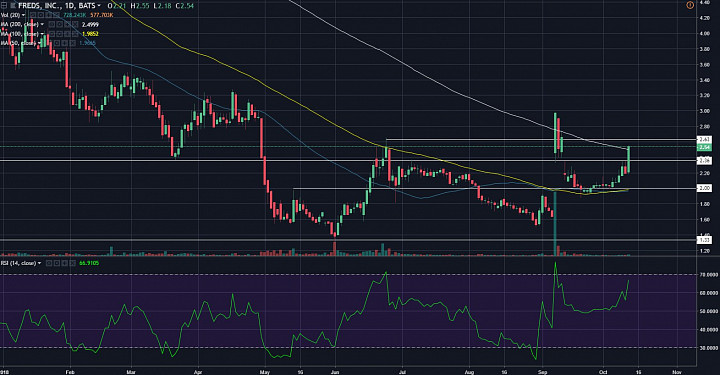 (click to enlarge)
Defensive Consumer Staple:
- If the economy stagnates, we see a lot of stocks dragged down. However, certain consumer staples like general supermarkets might be defensive.
- It is the case with FRED at the moment. As the markets retreat, FRED is rallying.
- We can also attribute the rally to the fact that it has short-term bullish momentum after the early-September surge.
Upside:
- The ability to hold above $2.00 suggests price will come up to at least test the $3.00 high from September, with a good chance of breaking higher.
- Above $3.00, we might want to limit our expectation to the $3.50 support/resistance pivot unless the $3.00 resistance becomes support.
- At the moment, if price can anchor above $2.30, we can gain more confidence for the bullish outlook.
- A break below $2.18 on the other hand would be a BAD sign for the bullish outlook. If this happens, we might want to step back and reassess.