GBP/JPY Signals Long-term Bearish Continuation
GBP/JPY has been bullish since late 2016 when price bounced off of the 126.15 area. From that low, the pair has reached 156.00 in the beginning of 2018.

While this might sound like a bullish trend, the weekly chart below shows that this could have just been a consolidation within a longer-term bearish trend that started in 2015, with price falling from 196.00 to that 126.15 low.
$GBPJPY Weekly Chart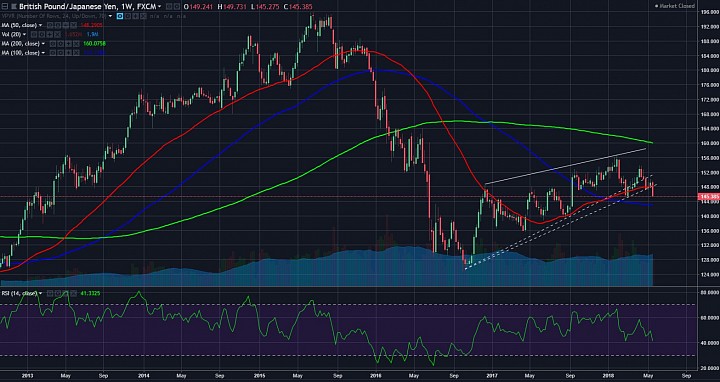 (click to enlarge)
Wedge Breakout:
- Note that sharp swing in 2015-2016 followed by the choppy rally from late 2016 through 2017.
- The price structure suggests that the bearish trend is the main or motive wave, while the choppy wedge was the correction one.
- Since that 156 high in January, price has been falling. It is clearing the wedge support and signaling a bearish continuation.
- We should at least expect GBP/JPY to slide to the 140 handle.
- If we get more evidence of the bearish outlook i.e. resistance holding around 148, then we can look for 136, 130, and then the 2016 low in the 126-127 area.
It should be noted that the US Dollar and the Japanese Yen have been strong. (YEN more so)
This could be an indicator that markets are risk-averse. We should anticipate some downturn in the equities market next week after the Memorial Weekend Break (off Monday).