GBP/CAD - Showing Bearish Bias with Double Top
In the second half of October, GBP/CAD rallied from below 1.98 to just above 2.03.
(click to enlarge)
The 4H chart shows that last week, price was stalled around 2.0320 twice, forming what looks like a completed double top. However, price has not clearly broken 2.01, although this support has been cracked. On the other hand, the fact that price was able to hold below 2.0250 for the most part shows that the market is respecting the double nonetheless. 
Combined with the fact that price has broken below a rising trendline, the GBP/CAD looks poised to become bearish again. In the very short-term, we can anticipate a test of the 2.00 psychological handle, below that price should fall towards the 1.98 handle with risk of continuing the medium-term bearish correction since August, from about 2.0970.
GBP/CAD Daily Chart 11/1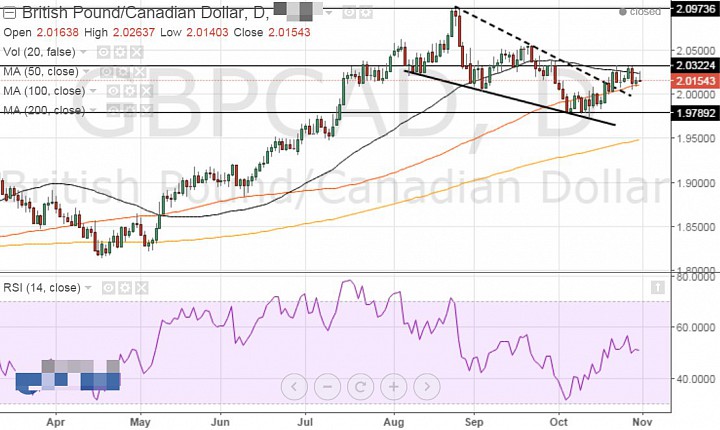 (click to enlarge)
Now, from the daily chart, we can see that price did break above what appears to be a falling wedge. There is the notion that this can be a bullish breakout for the longer medium-term. For this possibility, I would try to put an order to buy around 2.00 with a target of 2.0320 and then 2.05 and a stop below 2.00. This should provide a really good reward to risk. 
Now, before price pushes to 2.00, I would consider shorting around 2.20 with a target of 2.00, and a stop just above 2.0260. Now, if price does reach 2.00, I would take some profit, but also leave a "runner" of about 1/2 a normal position in case price does fall towards 1.98. The most aggressive bearish outlook would be towards the 1.95 pivot, where the 200-day simple moving average also resides.