Facebook (FB) is Likely in for a Significant Period of Consolidation
I think Facebook $FB is finally going to be in for a long period of sideways action. It has been in a persistent uptrend since it anchored above $20 in 2013. But now, I think price action has finally gotten ahead of its growth potential. There are even arguments that FB is going to struggle in the coming years as the younger Millennials and Gen Zs are not as interested in using Facebook as the previous generation did.
FB Daily Chart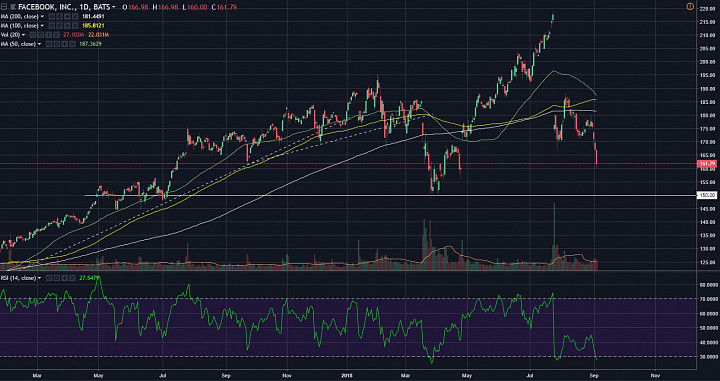 (click to enlarge)
Range Between $145 and $195:
- To me, Facebook has shifted into a sideways market with some more downside in the short-term.
- But I think there should be support in the $145-$150 area. Note that $150 was the 2018 low set in March.
- A break below $145 would open up the $110 support/resistance pivot area.
- Now let's say price does find support above $145. The upside will likely be limited.
- There's a lot going on under the $200 mark as we can see on the daily chart. For example, the cluster of moving averages are there. I think there will be a cap to the upside at around $180-$195.
- I think we will see price consolidate within this range until the market sees potential outside of Facebook's current ad model on its social media platform i.e. more growth in Instagram.