Is Starbucks (SBUX) Topping? 52 is Neckline
Starbucks $SBUX has not been doing so well since 2016, considering the S&P500 rallied from a low of 1800 to a high of 2878. This was an almost 60% rally before the recent correction. SBUX however has been consolidating since the start of 2016.
SBUX Weekly Chart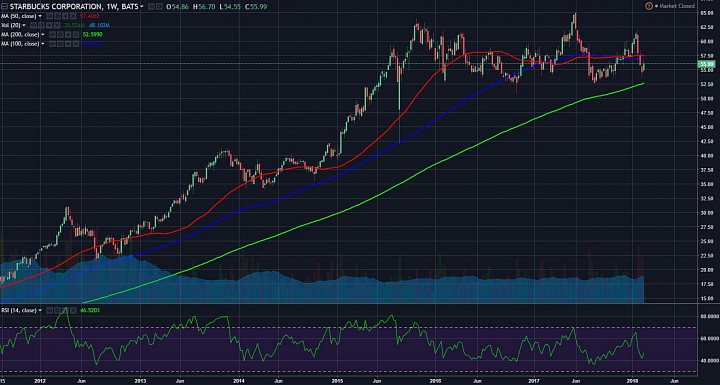 (click to enlarge)
52 is Neckline:
- The weekly chart shows how $SBUX has been underperforming since 2016.
- It made a slow and steady climb in the second half of 2017, but has been dropping like a brick in the past few weeks.
- If price breaks below 52, we have a price top and SBUX could be traveling down to the 40-42 area.
- Maybe it can hold, and the price will continue sideways, with a short-term bullish outlook.
- If the S&P500 fails to reignite its bullish mode and starts a bearish trend or even just trades sideways, we might see SBUX break that 52 support.