Boston Beer Company (SAM) in a Bullish Breakout
Last week, I was looking at Boston Beer Company (SAM) as it attempted to complete a price bottom. The technical picture was essentially a rounded bottom.
Boston Beer (SAM) attempting a price bottom
From Brexit Dip to Breakout: The risk aversion following the Brexit vote did pull the stock down a bit from the neckline, but buyers quickly swooped in and pushed the stock above the neckline this week. 
SAM Daily Chart 6/30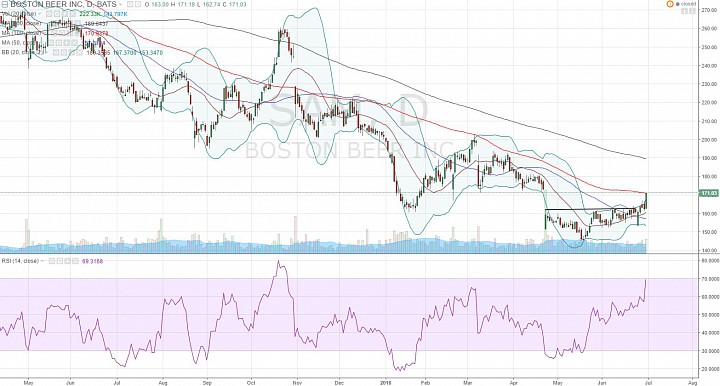 (click to enlarge)
Stalking the Breakout: 
- In the previous update, I limited the bullish outlook first to the 175 area, then the 200 area.
- 200 is the critical support/resistance pivot level that is also near the high on the year.
- But first, with the the RSI pushing to an overbought area within a downtrend, 175-180 is a good area to anticipate resistance. 
- If price comes down and holds above 160 or somewhere around there, the picture still looks bullish, and the 200 target would be more likely.
- If price falls below 154, we are likely going to see bearish continuation. 
Fundamental backdrop: The reason for SAM's prevailing decline is its decline in market share to smaller craft beers. I am not exactly sure if the outlook is any rosier after today, but I think in order for price to push to 200, there has to be a sense that the company can maintain its market share. A pop above 200 will likely need the market's confidence that it can actually gain market share.
Here are a couple of the latest headlines for SAM:
Boston Beer Taps Former Moet Hennessy Exec as New CMO
Boston Beer Company files for 'Brexit' trademark
Perhaps, some marketing jolt will at least give the market confidence - but will it translate to real growth?